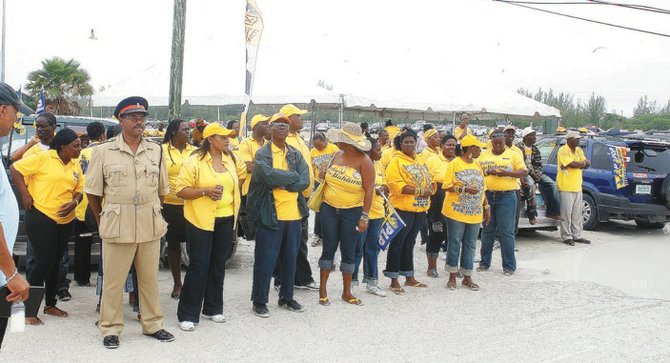 PLP LEADER Perry Christie promised the Bahamian people at a rally on Monday night that if successful at the polls, his party would put the question of oil drilling to a referendum.
"Bahamians, we aren't the FNM," he said. "We actually care about what you want. And there will not be oil drilling in the Bahamas unless you want it - we are on the record in favor of a national referendum.
"That means that not only would any proposed change in policy have to meet the toughest safety and environmental standards, it would require your approval, too."
Mr Christie recently came under fire for admitting he had been a paid consultant for the Bahamas Petroleum Company (BPC), which has contracted the law firm of Davis and Co, headed by Mr Christie's deputy leader Philip Davis.
However, Mr Christie said that the furor surrounding oil drilling has nothing to do with him and everything to do with the FNM's "sinking ship".
Mr Christie also hit out at the FNM, saying the governing party is attempting to "invent new lies" about the PLP - but warned that the truth will win out at the polls.
The truth, he said, is that Prime Minister Hubert Ingraham has failed the Bahamian people on the points that matter most. "He failed to keep you safe. He failed to create jobs, even as other nations around us are recovering and growing. He failed to secure the nation's borders. And he has failed to believe in you, Bahamians - failed to invest in you or equip you to compete in the 21st century."
Mr Christie claimed the FNM has failed to grow tourism, failed to innovate and failed to create even "one net job" in five years.
"More than 29,000 jobs have been lost and over 43,000 Bahamians are unemployed with thousands more under-employed. You know about the mismanagement of BEC - no new plants built in Nassau, no maintenance to existing plants, everyone struggling with insane electricity bills.
"So you see what kind of trouble they're in - all they have left are lies and attacks," he said.