By KHRISNA VIRGIL
kvirgil@tribunemedia.net
THE Christie administration was the weakest, most incompetent and unproductive government since independence, Prime Minister Hubert Ingraham said.
Speaking at a rally at the Crab Festival site in Mangrove Cay, Andros on Tuesday night, Mr Ingraham claimed the PLP are still "big on talk, but not on delivery".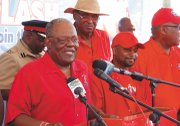 From 2002 to 2007, he said, the Christie administration did not deliver any of the repairs or developments that were sorely needed in Andros.
Mr Ingraham said: "Consider how they left you. Consider what Picewell Forbes has done since you elected him.
"Today, central Andros is worse off than you were 40 years ago.
"Now they want you to give them your seat again. They must take you for fools."
According to Mr Ingraham, under the PLP there were no new jobs for Androsians despite that party's widely advertised claim that it created 22,000 new jobs for the country.
"How come central Andros didn't get any of them? What did you do to them so bad that they would not send any of those 22,000 jobs to Central, South Andros and Mangrove Cay between 2002 and 2007?" he asked.
Mr Ingraham added that on top of the PLP's inefficient approach to governance, they neglected the Bahamian people on health care, failed to repair deteriorating roads in Andros, and allowed schools and important buildings on that island to reach a state of serious disrepair.
He also noted that no schools were built during Mr Christie's time in office.
Reminding the crowd that they have been represented by the PLP for 51 years, Mr Ingraham questioned if the Christie administration was really committed to creating positive opportunities for them.
"You recall that the PLP, whom you have supported loyally for all these years, could not give two hoots about the level of pay you earned working at AUTEC. It was the FNM that caused you to begin to be paid at a wage level," Mr Ingraham said.