By NATARIO McKENZIE
Tribune Business Reporter
nmckenzie@tribunemedia.net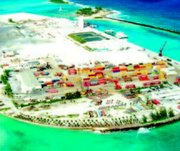 MAJOR Bahamian retailers said yesterday that while minor logistical issues were expected with any new operation, they had not experienced any major issues with operations at the new Arawak Cay container port.
Phil Lightbourne, owner of the Gladstone Road-based food retailer/wholesaler, Phil's Food Services, told Tribune Business that while there were some "glitches" as expected with any new operation, the port's fees were the major concern.
Mr Lightbourne said: "This is the most expensive port anywhere in the world. The fees are exorbitant and that's really tough. It's going to send the price of food through the roof. There are plenty costs associated with it now. We feel it first, then the consumers feel it afterwards."
Regarding the port's operation, Mr Lightbourne said: "There are some glitches but that's expected with a new operation. After they master it, I think it could be a smooth operation, but you will pay the price for it."
Gavin Watchorn, president of BISX-listed AML Foods, operator of the Solomon's SuperCentre and Cost Right formats, told Tribune Business: "We haven't had any major issues on our end. With the amount of containers we bring in invariably there is going to be a delay with a container here or there.
"It's a new port and, like any new business, it's going to need a bit of time to get everything running smoothly."
Mr Watchorn recently told Tribune Business that the company had budgeted for freight costs to increase by 10-15 per cent in 2012, stating that that he and other major Bahamas-based bulk importers felt their volume-based competitive advantage was being "eroded", despite all shipping companies moving to the new $83 million Arawak Cay Port.
Rupert Roberts, Super Value's owner, in a recent interview with Tribune Business warned that the price of many grocery items is likely to increase by at least 2-3 per cent, having been told that freight rates will rise by 10 per cent due to the new/revised charges being imposed by the Arawak Cay Port.
Atlantic Caribbean Line's (ACL) shipping director, Garth Rolle, told Tribune Business he had been "pleasantly surprised" by the smoothness of operations at the new port.
Mr Rolle said: "Everything is going pretty smoothly. I have no complaints. I am pleasantly surprised on how much improvement we have seen in the first three weeks."
Regarding increased operational costs, Mr Rolle said: "Anytime there are increases there is going to be negative feedback. Increased fees are a reality. All carriers have to withstand the flak from these fee increases. Right now we have a split operation. The LCL's (less than container load) are still being collected at Union Wharf. Full load containers are being collected at Arawak Cay."