By CHESTER ROBARDS
Tribune Senior Reporter
crobards@tribunemedia.net
A 46-YEAR-OLD father was gunned down in the Sugar Kid Bowe area of Nassau Village just off Sumner Street early yesterday morning. Undressed in his bathroom, he was preparing for work when his assailant opened fire, according to police reports.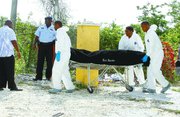 The man, who was identified by family members as Ricardo Rolle, was shot six times at about 8 a.m. It was reported that six spent bullet casings were found near the body.
Police reports said they discovered Rolle's naked body on the floor of his bathroom. He was pronounced dead at the scene by Emergency Medical Services personnel.
A family member, who spoke on condition of anonymity, told The Tribune that Rolle was to be the chief witness in the murder trial of his nephew. She said the trial was set to begin this month.
"My nephew got killed in 2006 and the case is scheduled to begin in about two weeks and he (Rolle) is the chief witness in this case 'cause he was there when my nephew got killed," she said.
Emotions erupted just outside Rolle's house as family members and friends began to gather.
Loud cries could be heard as a woman sank to the ground.
She had to be caught and comforted by a crowd that had gathered around her.
Rolle's family member said she was notified about the shooting by her niece, who lives in the area.
She said she was told that Rolle's killer would have had to pass several children playing in the yard in order to enter the house. And she added that Rolle had just entered the bathroom to use the shower when he was shot to death.
"He was in the tub talking a bath to go to work and he just shot him," she said.
According to reports, Rolle's girlfriend was in the house at the time of the shooting.
According to reports, the suspect was wearing a black hooded jacket with dark sunglasses and blue jeans, and fled the scene on foot.
Police are requesting the public's assistance in locating the man responsible for Rolle's murder.
They are asking anyone who might have information regarding this or any other incident to contact police at 919, 322-3333, the Central Detective Unit at 502-9910 or 502-9991 or Crimestoppers at 328-TIPS.