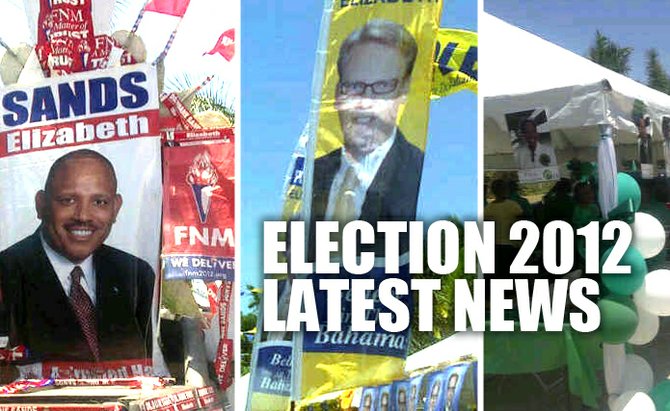 By DANA SMITH
dsmith@tribunemedia.net
The Elizabeth constituency is one to watch today as the 2010 by-election was won by PLP Incumbent Ryan Pinder by a razor-thin margin.
Both Mr Pinder and FNM candidate Duane Sands, who narrowly lost to Mr Pinder two years ago, appeared optimistic about winning by a large share of the votes this time.
Newcomer, DNA candidate Charlene Paul also stated she is "absolutely" confident about her chances at winning a seat.
"It's a big day, it's a huge day in the Bahamas," she said. "People been on the lines since 7.00am - I think it's a sign of anticipation and excitment to do something historical. I think people have come with full intentions to make a difference with their vote."
Mr Pinder spoke on the amount of "gold hats and gold shirts" that came out to support him as evidence of a PLP win.
"We have a tremendous amout of support and we are very, very, very encuoraged in Elizabeth," he said. "I don't think it will be close at all. I think I have a very, very large margin. I think the demonstration of support that you've seen today demonstrates that and I'm completely confident that I'll be elected and we'll know very early on because the margin will be that big."
On his FNM opponent, he stated: "I don't trouble myself with Dr Sands. I look out for the best interest of the people. I think Dr Sands has an infatuation about me and my campaign and I can't control that. I look out for the constituents of Elizabeth and I look out for the residents here and in their best interests. I've done that for the past two years and will do that for many years to come."
For his part, Dr Sands also took note of the amount of voters sporting colours.
"We're feeling very good. It's wonderful to see the democratic process in action. It's also particularly good when you see it appears to be going in your favour," he said. "There's a lot of red and there's a lot of people not wearing gold. My observation has been that, certainly for people wearing colours, it's been significantly less than I anticipated."
He added: "I don't think it's going to be a narrow margin like it was in the by-election. I think that after we do the first count it's going to be very clear... I don't want to be over confident at this point, lets simply say that I'm very confident and we're just going to keep working."
Dr Sands said he wishes both his opponents well, including Mr Pinder.
"I think we've tried to conduct ourselves as cordially as possible," he said. "I've had some issues with Mr Pinder's campaign but we'll put that behind us. At the end of the day, we hope to emerge victorious and I will be gracious when we're all done."