THE election process across The Bahamas was 'well prepared and executed,' according to the Organization of American States' team of observers leader Alfonso Quinonez.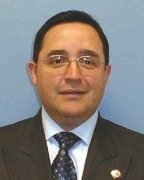 Mr Quinonez said yesterday afternoon that his team had been throughout the constituencies and had had no reports of any election fraud, vote buying, or voter intimidation.
"We have observed the process and everything has gone well. Obviously there may be something brought to our attention because there is still some time to go (before the polls close) but so far everything has gone very well," he said.
Mr Quinonez added that they had witnessed some voters' votes being protested by various parties but those issues had been dealt with by Parliamentary officials.
"At this point, we can say the elections have been conducted in a very professional manner. The elections are very open and very professional. We are looking forward to the closing of the vote and to check the count."
Mr Quinonez stressed that he and his team were not here because they believed something was going to go wrong or that they were here to substitute electoral authorities.
"What we see is that this is an electorate that is very lively and very engaged. We have seen red shirts interacting with yellow shirts and in a very amicable manner. It is very positive and speaks highly of the Bahamian democracy; also you have a high turn out which speaks highly of democracy because this is not a country where voting is compulsory."