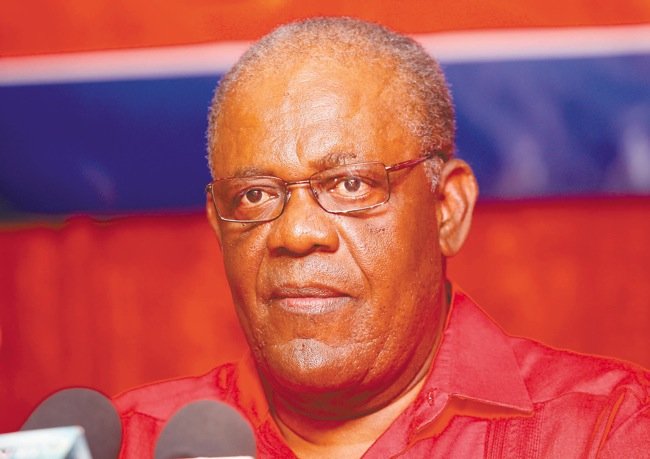 By PAUL G TURNQUEST
Chief Reporter
pturnquest@tribunemedia.net
IN an emotional address to the nation last night, former Prime Minister Hubert Ingraham conceded defeat to the PLP and resigned as the head of the Free National Movement.
Thanking his supporters and the people of North Abaco for electing him to the House of Assembly for the eighth consecutive time, Mr Ingraham shocked the handful of FNM supporters gathered at the party's headquarters by announcing shortly before 10pm that he would not take his seat in Parliament and would instead return to private life.
"I wish to express my gratitude and appreciation to the Bahamian people who gave me the opportunity to serve them as Prime Minister for nearly 15 years. I now leave you and say thank you, thank you from the bottom of my heart. Goodnight, and goodbye," he said.
Mr Ingraham's address came after a nail-biting run off in the polls which saw the FNM leading at one point, then trailing, and finally being swept out of office.
In Mr Ingraham's emotional concession, he thanked all of his party's candidates, officers, members, supporters, and ground troops and FNM supporters throughout the country for their loyalty, support, and kindness towards him and his family.
"To my grandchildren who named me 'Papa', I want to thank them for their encouragement. I thank my children for their love and support. I thank my wife most profusely for standing with me. I also want to thank my friend Alphonso 'Boogaloo' Elliot - who has been with me and is a lifelong friend.
"I know somewhere in heaven 'Mama' is smiling on her boy. I promised her I would do the best I could while I was here and I did. From the bottom of my heart I thank all," he said.
The FNM's defeat - which came as a massive shock to many supporters - was described by its party insiders as a vote against the government and its policies over the past five years.
Speaking with The Tribune last night, FNM insiders said that despite the loss, they still believe that Mr Ingraham did an amazing job given all of his accomplishments in this last term.
One said: "With these accomplishments there were some complications. Obviously the populace was not willing to concede.
"They were not prepared to be inconvenienced with some of the plans that the Ingraham government was responsible for.
"So the people had a lot of anxieties that the government was not able to address. Some of them they could, but the most constant anxieties were crime and everything tangible to that which is very emotive.
"The other thing was the economy which I believe the government did a stellar job with. The fact of the matter is they did not lay off a single Bahamian - which is amazing. But when you see who came out against the government - the unions, customs, immigration, the government could not afford to give them what they wanted. And we paid for it at the polls.
"This vote tonight was not for the best interest of the Bahamian people. It was very short sighted, and I think the decision was an emotive one, and one not made in the best interest of the long term for the Bahamian people."
The party's insider said that Ingraham's resignation as leader of the party and from Parliament was 'exemplary.'
He added: "Mr Ingraham has served with distinction. There is no question about that.
"I think Perry Christie is going to find it very difficult to step into Mr Ingraham's shoes. As he was unable to effectively govern form 2002 to 2007 I believe that time will repeat itself."