By BRENT STUBBS
Senior Sports Reporter
bstubbs@tribunemedia.net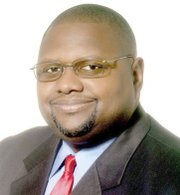 IT wasn't the type of result that he anticipated. But, as he makes his exit from front-line politics, Charles Maynard said he was pleased with his three-year tenure as Minister of Youth, Sports and Culture.
Maynard was voted out as the Member of Parliament for Golden Isles by Progressive Liberal Party's Michael Halkitis in a shocking defeat of the Free National Movement as the Government of the Bahamas during the General Elections on Monday.
"I'm very proud of my accomplishments over the last three years as Minister of Youth, Sports and Culture," said Maynard in the aftermath of the elections.
"I think we had many achievements that will have a greater impact going deeper into the future in sports and sports tourism. I believe we have gone a long way and we have had some solid commitments from sporting bodies interested in coming to the Bahamas, so I hope whoever it is that will come in will finish the job that we started."
Maynard said he was stunned by the results, not only by his loss but, more importantly, the FNM as the government of the day.
"I went into the election with an open mind. I expected to win of course but it didn't work out," he said. "I still feel good about the opportunity that I had to serve. I think I was able to make a real difference in the country, so I don't feel bad leaving. I leave rejuvenated and committed to whatever my next course in life is."
As he looks back on his tenure, Maynard said the completion of the new Thomas A Robinson Track and Field Stadium and filling it with more than the capacity of 15,000 fans for the official opening earlier this year was one of his highlights.
"Of course, bringing the National Sports Authority into play and we have already looked at three of the top companies in the world to be a part of it," he said.
"It's just a matter of the new government taking a look at it, and ensuring that we fully benefit from their involvement financially, that is going to be important."
On the flip side of the coin, Maynard said he can't pinpoint any "lows or disappointments" during his time in office.
"We've had a very good working relationship with all of the sporting bodies, associations and federations," he said. "We had one or two issues but we have always been able to iron them out and come to a resolve.
"So I have no disappointments. I believe that I was able to make sure that we lived up to all of our projects in our manifesto that we promised in 2007 as it relates to youth, sports and culture. So I feel good about the service that I rendered to the Bahamian people."
A businessman by profession before he entered politics, Maynard said he intends to spend some private time with his family before he gets himself into any future projects.
But he admitted that he hasn't ruled out a return to politics. He's just not sure what role, whether it be just at the party or national level, he will play.