By KHRISNA VIRGIL
kvirgil@tribunemedia.net
THE PLP's Bamboo Town victor Renward Wells attributed his win to a campaign focused solely on the people in that constituency.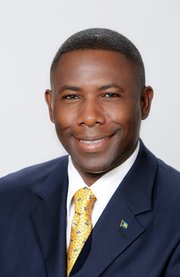 Still riding high on the PLP's landslide victory over the FNM and DNA, Mr Wells told The Tribune he always knew a win was on the cards as he was determined to focus on what Bamboo Town residents regarded as important.
Mr Wells said: "It is as I told everyone who thought I was an underdog and that I wasn't going to win that race.
"I believe that when it comes to the Bahamian people it is never about a man as persons in Bamboo Town and the nation made it. It was made about one man - Branville McCartney.
"I made it about a message and an ideology. I made it about the policies and the people of Bamboo Town.
"I told my leader I would return this constituency to the PLP. I told him to have no fear and that when the PLP saints go marching into the House of Parliament Bamboo Town would be in that number."
In this year's General Election the seat was hotly contested by four other hopefuls including DNA leader Branville McCartney, Cassius Stuart of the FNM, independent Craig Butler and the Bahamas Constitution Party's leader Ali McIntosh.
Early on, political pundits deemed the race one to watch - especially with regard to Mr Stuart, the former leader of the Bahamas Democratic Movement, and Mr Wells, the former leader of the National Democratic Party.
They joined the FNM and PLP respectively last year.
After winning the seat in the 1982 General Election, the PLP had not been successful in re-electing a candidate for that constituency.
Tenyson Wells, who was first an FNM member of Parliament and later an independent, represented the constituency from 1987 to 2002.
Commenting on the PLP's victory, which claimed 28 constituencies over the FNM's 10, Mr Staurt yesterday said the defeat was a message from the Bahamian people.
He said: "While I don't think we did anything on the campaign trail, I do believe that the huge PLP victory over us was a message from the people telling us to have an introspective look at the party."
He added that the defeat will now give the FNM the opportunity to infuse the party with "new blood and fresh ideas."