By LESH
THE LIGHTS dimmed for the last time for American Idol hopeful Skylar Laine, after host Ryan Seacrest revealed her elimination from the show last Thursday.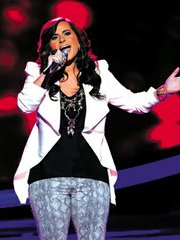 Skylar's fans hoped she would make it as far as the top 3, but the 18 year old's ending came a few episodes too early. After finding herself in the bottom two along with contestant Hollie Cavanagh, it was Skylar that received the unfortunate end of the Idol stick.
Even though the crowd shouted "boos" and cheers of disappointment, she took her leave very pleasantly, giving Hollie a long, warm embrace before singing her last song on the Idol stage.
Not too long after her departure, the country-like singer told E online the show must go on.
Speaking about the best advice she received while on the show, Skylar said: "To stay true to myself; don't let anybody change me as an artist. I'm not a pop-country singer, I never will be. Don't let anything make me one."
The website stated that Skylar was unapologetic about her country roots throughout the competition, which may have turned off voters who don't listen to country music. It was a risk the singer was well aware of.
She told reporters: "It's definitely a conscious decision. I've accepted the fact that if I get to make an album and put singles out, they're probably only going to be played on country radio, that's just the way it is and that's the way my songs are going to sound. I've accepted that."
Even now, she has no regrets about her journey on the show and would not change anything about it.
Surprised by Skylar's elimination, one American Idol viewer said: "My question is, why is Hollie still in the competition. I am beginning to wonder if I should quit watching the remainder of the show because the producers are letting me down. I hope nothing but the best for Skylar and her career though, I know that this is not the end for her."
With different views, another fan said, Skylar lasted longer than she should have on the show.
"I don't see the big deal in Skylar being voted off. She was an okay singer but she was not anything to make noise or brag about. My number one pick is Jessica anyway, so until they make a mistake and vote her off before having a chance to win the competition, I have nothing to say," she said.
Highlights of last week's show included a performance from former American Idol season four winner Carrie Underwood, who graced the Idol stage to perform the song "Blown Away," from her latest album of the same name.
For those expecting to tune in this week, the remaining contestants will sing two songs, one from the theme, "California Dreaming", and the other from songs they wish they had written.
American Idol judge, Jennifer Lopez is scheduled to perform her single "Dance Again." Also, season seven winner, David Cook will take to the stage to perform his sing, " The Last Song I'll Write For You."
Top 4 Idol Contestants:
Jessica Sanchez
Hollie Cavanagh
Phillip Phillips
Joshua Ledet