By LAMECH JOHNSON
Tribune Staff Reporter
ljohnson@tribunemedia.net
PHILIP Davis is the new deputy prime minister of the Bahamas after being sworn in before his colleagues and scores of spectators at Government House yesterday.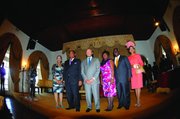 Mr Davis was also revealed to be the minister responsible for Works and Urban Development during yesterday afternoon's ceremony by Prime Minister Perry Christie.
The new Prime Minister, while admitting that the new DPM's post in Works and Urban Development will be a challenging one, gave his full support and confidence for an MP who will receive his first cabinet assignment.
"He will be greatly challenged to continue with the orderly development of our country. He has the opportunity to do all of the things that he argued for."
The MP for Cat Island, Rum Cay and San Salvador, after shaking hands and hugging well wishers who congratulated him, spoke to the press about the challenge ahead with his appointed post and plans to be enacted in that ministry.
"Our initial thought is that there will be many challenges in the ministry of works having regards to what has been happening with the road works and the general implementation of the infrastructural works issues; the cost overruns...and that's the first challenge we have to address, try to get a handle on that and bring some order and effectiveness for the carrying out of those works."
"It is troubling to have $100 million in overcosts, it's the first issue we will have to look at and we intend to call in all the plays and have a review of what's going on."
He said they were not going to cancel or reverse any works in New Providence Road Improvement project until a full review is conducted.
"We don't intend to slow down anything. We've got to review what's going on as they are going on and depends on what I discover, that decision will be made whether it continues or not."
He said the family islands would not be left out of the picture as the many islands are due for infrastructural upgrades.
"During the course of the campaign, we discussed in ensuring the family islands get some attention with roads, sea walls, and their infrastructural needs.
"We will do that as a real stimulus as opposed to a stimulus that carries the cash out of the country. Our focus will be within the next 100 days."
Regarding the much touted Urban Renewal 2.0, the deputy prime minister said the government knows that the inner city communities need "a whole revamping" to the point that persons in those areas have easy access to modern facilities.
"That's a part of our exercise for this immediate term. Long term we are hoping to transform the Bahamas to a 21st century country."