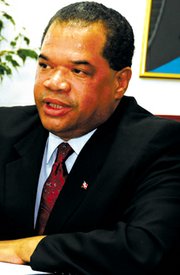 FORMER Minister of Labour Dion Foulkes said the impact of the Democratic National Alliance on Monday's election took everyone by surprise.
Speaking outside FNM headquarters yesterday, Mr Foulkes said the FNM could have won as many as 23 seats were it not for the fledgling party's resonance with voters.
He said: "All of the polls indicated that it was going to be a very close election. I don't think anybody anticipated the amount of votes the DNA would have gotten in certain areas and that impacted in my estimation about 15 of our seats.
"In my view, I think we could have won an additional 15 seats if the DNA was not in the race, but you know this is a democracy and we have to accept the way things have worked out."
While final election numbers had yet to be released last night, the DNA seems to have attracted around 10,000 votes - more than any other third party in Bahamian history.
Speaking of the road ahead, Mr Foulkes said: "We are together as an organisation - we had a very successful meeting today with all of the candidates. The leader Mr Ingraham, he is in a very good mood and he is very optimistic about the future of the organisation and all of us are working together."
Asked if he would run for Parliament again, Mr Foulkes said: "It's much too early to address that - obviously I will have to discuss matters with wife, children, family and friends before.
"I would advise politicians generally not to make any decisions about their future right after a defeat."
Asked to name his most memorable experiences during his time as Minister of Labour, Mr Foulkes chose the time spent crafting the National Training Initiative, the Unemployment Benefit Programme, and the National Prescription Drug Plan in conjunction with the Ministry of Health.
"We did some big things that impacted the ordinary Bahamian in a positive way. I was very pleased that I was able to have great staff at the Department of Labour and the Department of Social Services, in the height of the great recession, to deliver services to the Bahamian people that kept this society afloat and kept families afloat," he said.
"I was also able to maintain industrial peace. We had no major industrial issues and leading up to the election I had all industrial matters resolved."