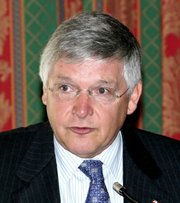 By NEIL HARTNELL
Tribune Business Editor
THE Grand Bahama Port Authority's (GBPA) newly-appointed chairman yesterday urged this nation's maritime industries to unite under the 'Maritime Bahamas' brand, an unveiled plans to hold a "high level" Bahamas International Business Forum in Freeport in February 2013.
Addressing the Grand Bahama Chamber of Commerce, Ian Fair that by bringing all the Bahamian maritime industry players into the association that Maritime Bahamas would entail, they could "feed off" their respective strengths and develop strategies that would benefit the sector as a whole.
Describing the Bahamas as having "the potential to become a major maritime player in the Western Hemisphere", given its location, tax regime, existing harbours and the services they provided to seafaring vessels, Mr Fair said the industry was the "third largest contributor" to this nation's economy and "rivals the financial services industry in size". Its existing shipping registry featured 1,680 vessels and 57 million gross tonnes.
"We do not intend to rest on our laurels. Our vision is to have all these maritime industries and organisations join forces and coordinate their approach to the rest of the world. This would bring benefits to all Bahamians," Mr Fair said.
"What would 'Maritime Bahamas' look like? In the first instance, it would probably have a coordinating committee and possibly a very small secretariat,"
"With modern communications, it would be possible to involve virtually all interested parties in the broader policy decisions. It could become a 'one stop shop' for those making enquiries about maritime business in the Bahamas, and could help to avoid wasteful duplication of effort.
"It would be able to ensure that any presence at international conferences and exhibitions reflects the full range of maritime interests and possibilities within the Bahamas. Advice on careers could reflect the broad spectrum of opportunities for the upcoming generation. By having maritime interests talking to one another, fresh ideas would emerge to enhance the future for all."
Noting the maritime industry's potential to generate extra work and spin-offs for the Bahamian financial services industry, plus the insurance sector, accountants and attorneys, Mr Fair, who under the Ingraham administration was the Bahamas Maritime Authority's (BMA) chairman, said this nation could learn from how other small island states had exploited the maritime sector.
Both Cyprus and the Isle of Man, he added, had attracted large numbers of ship management countries, with finance houses and insurance companies following these firms to the latter jurisdiction.
The Bahamas, Mr Fair said, could use its proximity to the Americas to do the same, and also market the attractions of its tax system - as Singapore had done to attract Japanese shipping owners.
With the maritime industry's future secure, and the Bahamas well-positioned to exploit future growth, the GBPA chairman added: "One very important aspect is that the maritime field, like the Bahamas' other major industries of finance and tourism, requires no manufacturing capacity or natural mineral resources.
"It is based on a small but appropriately-educated workforce and is therefore an ideal industry for our country to develop. What other options are open to our future? We have three principal business sectors, tourism, financial services and maritime. We must protect and develop these every day, without fail. Our future success as a stable country depends upon it."
Currently, Mr Fair said the Bahamian maritime industry was "somewhat fragmented" and had "not been marketed as extensively as it deserves".
On the Freeport front, the GBPA chairman added: "We are planning to hold, in conjunction with the Commonwealth Business Council, a high level Bahamas International Business Forum in Freeport in February 2013.
"This will be a joint venture between the Government, the Port Authority and the Commonwealth Business Council. The Council have much experience in organising such events, and in identifying international persons of interest to attend.
"They held a most successful Business Forum in Perth, Australia, in October 2011, and one in Trinidad and Tobago in 2009. The event will be designed to raise the profile of Grand Bahama.
"We also plan to conduct a number of promotional visits overseas, and have identified Asia, South America and Europe as our initial targets. The key message is what Grand Bahama has to offer as a global shipping and business centre in preparation for the opening of the expanded Panama Canal in 2014. As a result of our strategic location we can - and should - be a major beneficiary of the increased trade flows that will flow from this expansion."
Mr Fair added that the GBPA planned "to engage" with the newly-elected PLP government over the renewal of Freeport's real property tax and Business Licence exemptions, under the Grand Bahama Act 1993, next month.