By JEFFARAH GIBSON
Tribune Features Writer
MULTI-platinum gospel singer Donnie McClurkin is committed to spreading God's word all over the world. For the first the Donnie McClurkin Show will air on gospel radio in the Bahamas.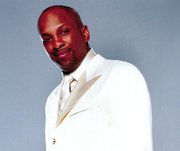 In an interview with Tribune Religion Mr McClurkin said he is enthused about Bahamian audiences listening to his show.
"With the show being online we are able to reach about five million listeners. I am excited that the show will air for the first time in the Bahamas on Sunday. The Bahamian audience can look forward to great features from kids and many other people. On the show we also have celebrity gospel artists so they can expect that and much more," he said.
The show will air regularly from Monday- Friday starting from 6pm-8pm on Joy 101.9 FM. And on Sundays from 2pm-7pm.
Regular features include segments such as Ask Donnie, and Sing-A-Long with Donnie. This year marks the fifth anniversary for the show which aims to present the best in American gospel music.
Mr McClurkin said this can open the door of opportunities for Bahamian gospel artists.
"Doors and avenues will open. The show highlights the best in American music but we also want to incorporate Bahamian music. We are in the Bahamas so we have to allow the voices of Bahamian artists to be heard," he said.
Donnie McClurkin is a pastor and is also the associate minister at Marvin Winans' Perfecting Church in Detroit. With the Donnie McClurkin Show he is able to minister to people all across the world.
"I hope that from the personal stories and the music, Christians and those in the secular world will be impacted by the healing messages. Through this platform the word of God can hit many Bahamians," he said.
Tribune Religion also spoke to several Bahamians who said they are looking forward to the show this Sunday.
"Donnie McClurkin is one of my favorite gospel artists. He has touched the world with his heartfelt stories and his music. This is something good and I will definitely be tuned into the show," said Baptist follower Geneva Rolle.
Donnie McClurkin has won several awards including a Grammy Award, Stella Award, BET Soul Train Award, Dove Award and NAACP Image Award. Some of his greatest singles include Stand, Speak To My Heart, Love Will Never Be, We Fall Down. Love Melodies We Love You, and Lord.
"I think this is a blessing to the Bahamas because he has proven to be a very inspirational man. From what I know about his life story he can be a great encouragement. I am looking forward to listening and I will tune in every time I can," said Sandra Miller.