By LAMECH JOHNSON
Tribune Staff Reporter
ljohnson@tribunemedia.net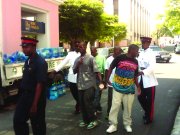 THE Court of Appeal told the man who murdered an FNM cabinet minister in 1997 that even if he succeeded in getting his life sentence reduced, the decision would be of no use to him.
Justices Christopher Blackman, Stanley John and Abdulai Conteh told Ellison Smith that because he had not contested his life sentence for armed robbery, which is connected to the kidnapping and murder of Charles Virgil, the hearing would only be a mockery of the process.
Ellison Smith was sentenced to death for shooting and killing "Chuck" Virgil during the FNM govern-
ment's campaign to return to office for a second term.
His body was found in a well field behind the Bahamas Electricity Corporation on Soldier Road on February 15, 1997.
Virgil was accosted outside his condominium on West Bay Street and forced into his car.
Smith and Anthony Evans were convicted of the killing in 1999. At the time, hanging was the only penalty for murder.
However, the Bahamas' automatic death penalty was ruled unconstitutional by the London-based Privy Council in 2006. As a result, all convicts on death row had to be resentenced.
Smith was given life imprisonment at a re-sentencing hearing in 2010.
Yesterday, his attorney Jiaram Mangra came prepared to argue that Senior Justice Jon Isaacs' punishment was excessively harsh and negated the possibility of Smith ever getting an early release.
But Justice Blackman pointed out that it did not matter, because even if this sentence was changed, Smith still had a life sentence for armed robbery he was not appealing.
Justice Conteh said: "He's got two life sentences and he's only got one life."
Justice John agreed and asked Mr Mangra if he had informed his client of the impracticality of the appeal.
Smith asked to speak and said that he had received a notice letter which his attorney did not know about, from the Privy Council indicating that both sentences were quashed.
Prosecutor Eucal Bonaby interrupted at this point, indicating that he was unaware of this.
Justice Blackman said he would adjourn the hearing to May 17 in the interest of "fairness to all", and in the meantime, investigate these matters.
He advised Smith that in future proceedings, he should disclose everything regarding his case to his attorney.
Also appearing before the Court of Appeal yesterday were Edney Burrows, 28, and Justin Mather, 23, appealing both their convictions and sentences for separate murders.
Burrows was convicted last year for the stabbing death of 28-year-old Jason Smith in front of his home on Deveaux Street on September 13, 2008.
According to the evidence, Smith was intoxicated when he started a fight because he did not want Burrows and Andre Dieujuste to leave their car in front of his home.
Though testifying that the incident was not premeditated and an act of self-defence, Burrows was convicted and later sentenced to 30 years in prison.
Mather was convicted last year after he changed his plea to guilty in connection with the 2010 murder of Devaughn Voitiva Fritz.
The charred remains of 23-year-old Fritz were found behind the wheel of a burnt car in March 2010.
He was sentenced to 33 years in prison.
Justice Blackman made an order for the both men to be appointed attorneys, as Mather in particular seemed unsure of whether he wanted to appeal the sentencing or conviction.
They will return to the appellate court on July 3 for a status hearing.