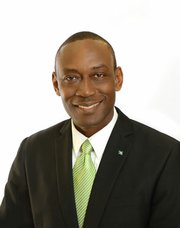 By CELESTE NIXON
Tribune Staff Reporter
cnixon@tribunemedia.net
IT is impossible to say which party the Democratic National Alliance took more votes from, party chairman Mark Humes said.
He said people can only speculate over whether those who supported the DNA were former FNMs, former PLPs, or first time voters, but one thing is obvious - the people wanted former Prime Minister Hubert Ingraham out of office.
Mr Humes said of the FNM: "If they want to believe the DNA was their downfall we accept that, if they want to say we were the giant slayer we accept that, but no one knows where the DNA votes came from so everything is speculation.
"I think the FNM needs to take a real look at the leadership of their party; Mr Ingraham said it was about leadership and the Bahamian people showed that they didn't want his leadership - it was a referendum on Ingraham's leadership."
According to official election statistics, the DNA attracted around 13,000 votes, more than any other third party in Bahamian history.
Former Labour Minister Dion Foulkes, speaking outside FNM headquarters on Tuesday, said the impact of the DNA took everyone by surprise.
Mr Foulkes said the FNM could have won as many as 23 seats were it not for the DNA's resonance with voters.
He said: "All of the polls indicated that it was going to be a very close election. I don't think anybody anticipated the amount of votes the DNA would have gotten in certain areas and that impacted in my estimation about 15 of our seats.
"In my view, I think we could have won an additional 15 seats if the DNA was not in the race, but you know this is a democracy and we have to accept the way things have worked out," said Mr Foulkes.
Mr Humes said the election results show the Bahamian people are ready for change.
He said the DNA is encouraged and excited about the party's future and the role they will play.
"This election solidified our efforts, it showed that it was not that the Bahamian people were not ready for change, it was just at this time the people wanted get rid of Ingraham and so they concentrated all of their efforts in one direction," said Mr Humes. "They used the vehicle they felt was the best option at the time to get him out, that's what we saw."
On Wednesday, FNM chairman Carl Bethel confirmed that former Prime Minister Hubert Ingraham plans to take his oath as the representative for North Abaco in the House of Assembly, and subsequently resign at his earliest convenience.
When a by-election is called, Mr Humes said, the DNA is unsure if it will run a candidate.
"We haven't really gotten together to discuss those things yet. We are waiting to see what is going to happen - as we watch things progress we will make a decision on what has taken place," he said.