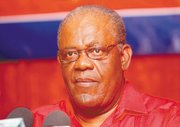 THE countdown is on to the Free National convention slated for May 26, where the party will decide its future and who the leaders of the party will be going forward.
An FNM counsel member spoke to The Tribune yesterday about who is likely to succeed Hubert Ingraham and Brent Symonette as leader and deputy leader.
Ivoine Ingraham said he would not personally speak as to who he felt should lead the party with former prime minister Ingraham no longer being at the helm.
"I'm reserving my comments on that. However, I can say that based on those who have spoken to me and what I have been hearing, there are quite a number of persons who are interested particularly in the leadership roles going into convention.
"The ones that have expressed interest are certainly credible, but honestly speaking aren't ready yet for the top leadership roles."
He said that there were also a handful of members that are desirable for the posts of leader, deputy leader and chairman but they don't want the job.
"There's no point in asking them if they don't want it but we do have a deep bench in the FNM of members with youth and experience."
"There are members like Desmond Bannister, Zhirvargo Laing, Michael Pintard just to name a few who have enormous ability in leading and being able to attract people with their energy. These are people who have been successful in their lives outside of the political area and that's what you need in a leader someone who has experience combined with energy and a natural ability to attract attention."
When asked about the FNM's only female member of parliament, Loretta Butler-Turner, new Long Island MP, he said: "It would be foolish of me and others to count her out of the race. She is definitely a major player and contender in all of this. It may not be for the leader role, perhaps deputy? But that can change."
He said he understands Darron Cash and Cassius Stuart expect to put their names forward for deputy leader.
"The FNM's future is in good hands. We have a deep bench of persons capable to lead going forward and by the time convention comes around, we will see that when the respective leaders are selected."