FORMER PLP Member of Parliament for Fort Charlotte and former Attorney General Alfred Sears has been invited to take part as an expert and delegate at the African Diaspora Summit.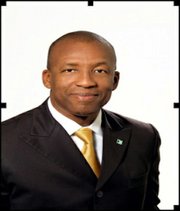 The summit, held from May 17 to 26 in Pretoria, South Africa, will explore ways to encourage African unity.
Mr Sears said that in 2003 the African Union, formerly the Organization of African Unity, amended its constitution to invite and encourage the African Diaspora to become a permanent part of the policy and processes of the African Union to help African unity.
Mr Sears took part in the Technical Experts Meeting in Pretoria, on February 21 and 22, 2011 to prepare the agenda for the Summit.
"That meeting made concrete project proposals on the thematic areas of political, economic and social cooperation", he said.
A meeting of foreign ministers was held on the margins of the United Nations General Assembly in New York on the September 24, 2011 where it was decided to hold a Global Diaspora Summit with heads of state and government from Africa, the Caribbean and the Americas in South Africa on May 25, 2012.
The summit will be preceded by a Civil Society Consultative Forum on the African Diaspora Dialogue on May 17 and 18; Pan African Parliament Ministerial Debate on the African Diaspora on May 22; Intellectuals Conference on African Diaspora on May 24 and African Diaspora Summit with heads of state and government on May 25.