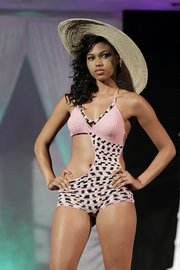 By JEFFARAH GIBSON
Tribune Features Writer
DERRICA WILLIAMSON went light with her swim wear line, sending out unique crochet options for both the slender and full-figured women at the Islands of the World fashion showcase, last week.
Williamson's line, Adelle13, was featured in the opening act, ExÎles Explosion. The designer opted for cotton and spandex fabrics instead of the traditional polyester to crochet light weight styles that were "breathable" and form-fitting.

"Crochet is very different. Particularly, my swim wear, which has lyrca and cotton which makes it breathable. It also takes the form of the body and it does not stretch out when it gets in water. They are all machine washable and very durable," she said.
The designer played with chiffon fabrics which also contributed to the light weight of the pieces.
Several of the designs to hit the runaway were also options for the full figured women. They included a blue and pink tankini and a monokini which ranged from 36C to 38D.
Ms Williamson said a complete plus size line will be available for voluptuous beach goers by Summer.

"I am plus size and I feel like I should be able to branch out and dabble into the plus size. I will soon debut a plus size line and expand in that area," the designer said.
Not only does she hope to expand her line for plus size women, she wants to expand her entire brand to include attire for both sexes.
"I want to expand all over. I want to have more plus size pieces like dresses, resort wear and men's wear," she told Tribune Arts.
Islands of the World Fashion Week is not the first time her line has been showcased. Last year Adelle 13 took center stage at the Fash/Art event.
"This show was a bit last minute for me, but I was still able to put the pieces together. I drew inspiration from some designs I saw. I incorporated them into the pieces and made it my own," Williamson said.
Designing swimsuits was not always the designer's passion. In fact Williamson said she never thought about making swimsuits at all until a close friend requested one. She tried her hand and was surprised and satisfied with the outcome.
"I told her no I do not make swim suits. I tried it and I liked it. I have been doing it ever since."
The event featured the work of twelve designers representing the Bahamas, Barbados, Guyana, Saint Lucia and Trinidad and Tobago.
They included veterans Darcel de Vlugt (Trinidad and Tobago), and David Rolle, Theodore Sealy and Harl Taylor, all of the Bahamas. Debuting collections for the first time at IWFW were Latoya Hanna-Moxey, Chelsea Johnson and Courtney McIntosh from the Bahamas, Alexis Campbell, Kesia Estwick and Andrew Harris of Barbados, Carol Fraser of Guyana and Sharleen Lagon representing Saint Lucia.