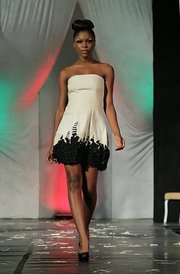 By ALESHA CADET
Tribune Features Reporter
THE Bahamas debut for Bajan designer Kesia Estwick was a highlight event at the Islands of the World fashion showcase last week.
The 21 year old Barbados native brought eye catching, edgy and over the top garments to the catwalk.
Kesia is best known for her most recent accomplishment, which was being selected to compete in the top Jamaican TV reality show, Mission Catwalk, where she captured the attention of young and old trendsetters. In the Bahamas, she continued to win the hearts of fashion lovers all over the Caribbean.
Each piece from Kesia's "Heather" clothing line received loud applause from the viewing audience. The line is named after Kesia's mother, who was a source of inspiration.
"She is a very strong woman. So, what I wanted to do was implement things that are hard and soft and kind of merge them together. I wanted to appear strong and fearless, because that is the kind of woman she is."
One of the models rocked a cat woman look in a skimpy, all black outfit. The daring clothing piece consisted of a see-through black dress, that revealed everything, straight down to the undergarments, which were created to blend well with the outfit.
Kesia's line used striped and block shapes in various forms, as well as floral petals. Her aim was to represent femininity and power, she said.
Her blue Odessa gown was made from linen and lined at the bottom with black petals. Kesia told Tribune Entertainment she put her heart and soul into the dress, made definitely for a diva.
"Odessa is my grand mother. And when I made that dress, a lot of stress and hard work was put into it. The petals on the bottom were hand done," she said.
IWFS production manager, Indira Moss, said she really enjoyed Kesia's cohesive collection. "I liked her attention to detail and the way she mixed fibers and textures."
"Overall, I think we had a great turnout and the audience seemed to enjoy the show fully. All of the designs were different and the months of hard work really paid off," said Ms Moss.
The other designers who took part in show included: Chelsea Johnson, Courtney McIntosh, David Rolle, Harl Taylor, Latoya Hanna-Moxey and Theo Sealy all hailing from the Bahamas; Carol Fraser and Andrew Harris representing Guyana; Alexis Campbell representing Barbados; Sharleen Logan from St Lucia; Kimon Baptiste of St Vincent and the Grenadines and Darcel de Vlugt from Trinidad and Tobago.
The showcase also highlighted the designs of the participants of the newly created Jackson Burnside III Fashion and Design Award presentation.