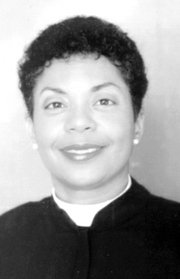 By REV ANGELA PALACIOUS
MOTHER'S DAY: It is just one day to say what needs to be said every day. The day is over now, so does that mean that we don't have to be grateful for another year? I hope not. I hope that the day has motivated us to recall all the reasons to articulate our thanks on a regular basis.
We know that pregnancy and delivery is a time of risk, but it has been greatly lessened by the modern advances in medicine. All the same, there are no guarantees on whose health will be greatly compromised by the whole experience. Even with this being the case, babies are born every day.
The nine months of gestation (or whatever length of time it ends up being) are a time of serious preparation to be able to provide a nest in which to raise a healthy infant. A mature mother is very preoccupied with her child having every possible opportunity to succeed from day one.
This means obtaining necessary items, creating a network of support, and eating what will give the baby the nutrients needed. Regular check-ups are essential and she is faithful in following the doctor's instructions.
Think of the weeks and months spent nursing (if possible), changing diapers, being available to respond to every need. If she has to work then she thinks about how the baby is doing in the nursery throughout the day.
The life of a committed mother is changed forever. There are some who send the child away, or enjoy the same social life as before with the baby having little occasion to really bond with her. Most are making sacrifices constantly.
Years follow with potty-training, lessons to talk, walk, write, spell, follow instructions, pay attention in school, do home-work, make friends, and all the activities involved from childhood to adulthood. Motherhood is a full-time, life-long commitment to be devoted and dedicated to the raising, nurturing and ongoing encouragement of this individual.
Other women educate us in school, Sunday school, youth groups and other civic groups as we grow older. There are women who are like sisters, like mothering spirits, like coaches, mentors and prayer partners. Some are our pastors, our physicians, our lawyers, our politicians, our leaders in every sphere of life.
Then there are women who are our blood relatives: Grandmothers, sisters, aunts, nieces, cousins. There are other relationships like mothers-in-law, god-mothers, step-mothers, adopted mothers, neighbours, colleagues, and good friends.
Where would we be without these special women? Women who can be tender and tough, passionate and compassionate, confidential and confident, but still need love and attention themselves. Let us all take more time to notice the women in our lives, to acknowledge their efforts, to articulate our thanks and praise, and to forgive their failings.