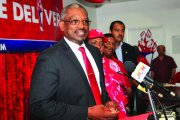 By AVA TURNQUEST
Tribune Staff Reporter
aturnquest@tribunemedia.net
THE candidates running for the top two leadership posts within the Free National Movement will not be contested, The Tribune has learned.
According to sources, the leader and deputy leader of the official opposition will be Killarney MP Hubert Minnis and Long Island MP Loretta Butler-Turner, respectively.
Mrs Butler-Turner announced her decision to throw her hat into the ring as four FNM senators were sworn-in yesterday.
With the party's convention less than two weeks away, Mrs Butler-Turner said she has already started canvassing delegates and has launched a social media platform in a bid to capture voters.
"We're now going to be presenting with a new face of the FNM now that (former leader Hubert Ingraham) has announced that he will be demitting the seat," she said.
"We think it's very important for the FNM to regroup very quickly and be able to be relevant and to present relevant faces to the electorate that we can be able to regain the government in a very short time."
Female representation in the party's leadership would prove advantageous, according to Mrs Butler-Turner, who highlighted her parliamentary and ministerial experience advocating for the rights of women and the nation's youth. She added that she had the support of the other male-elected parliamentarians.
"It's really unfortunate that even the make up of our lower chamber today is not representative of The Bahamas electorate, in that we still have a larger number of females that were able to vote in the last general elections as opposed to males," she said.
"I think in terms of the direction for parties there has to be a nod to the female vote. I think by me throwing my hat into the ring obviously I'll be able to try and woo the female voters, and I think that it gives good balance for both genders in terms of what we'll be able to bring as a leadership team."
Dr Minnis was sworn in as Leader of the Opposition last week.
Highlighting the unanimous support of Killarney MP for the parliamentary post, Mrs Butler-Turner said Dr Minnis will make an excellent leader as the party focuses on continuity, rebirth and growth.
Last night, party chairman Carl Bethel confirmed that he will be defending his post in the upcoming convention.