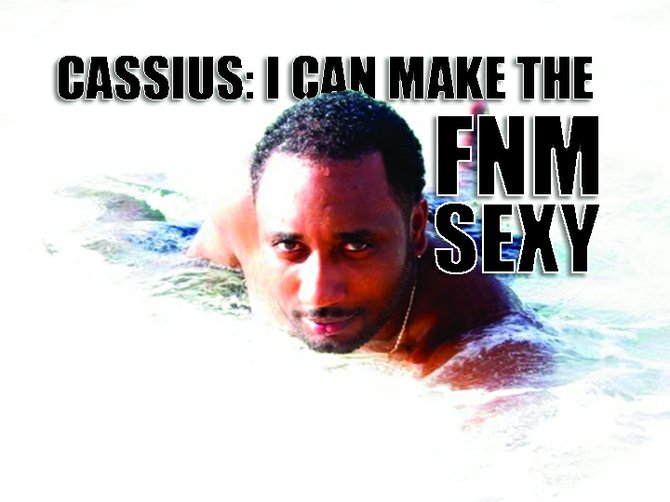 By SANCHESKA BROWN
Tribune Staff Reporter
sbrown@tribunemedia.net
A FORMER FNM candidate has thrown his hat into the ring to be the party's deputy leader saying he can make the FNM 'sexy.'
Cassius Stuart, pictured, hit back at reports the job will be uncontested at the party's upcoming convention and said rival contender Long Island MP Loretta Butler-Turner would not bring the "sexy" the party needs.
"I can make the FNM sexy and more attractive. She is not appealing to the woman voter and I am."
"I think I will do a better job as deputy leader than she can. I can make the FNM sexy and more attractive. She is not appealing to the woman voter and I am. They just are not attracted to her. We lost the female support in the last election and I can get them back, I can strengthen our support," he said.
"It is only wise for us as a party to put fresh more dynamic faces in the forefront. I know what it takes to fight the PLP and to be in opposition, she doesn't. She won't protest in front of Parliament like I have. I have put my feet to the ground regardless of who is in government. We need to build our party. We need to crystallise who we are and that starts with the leadership."
Mr Stuart said as deputy leader he can also bridge the gap between the 'haves and the have nots'.
He said: "We do not have the lower class vote. We lost touch with the grass roots. We need to bring both spheres together. If we do that we will be dynamic. So it is not true that no one will contest her. I am contesting her. However, I do not think anyone will contest Dr Hubert Minnis for the leadership. He has got the full backing of all the majority of the party members."
Mrs Butler-Turner announced her decision to throw her hat in the ring as four FNM senators were sworn in on Wednesday.
With the party's convention less than two weeks away, Mrs Butler-Turner said she had already started canvassing delegates and had launched a social media platform in a bid to capture voters.
Dr Minnis was sworn in as Leader of the Opposition last week. He is expected to vie for leadership of the party.
Carl Bethel, party chairman, confirmed he will be defending his post in the upcoming convention on May 26.
Mrs Butler-Turner brushed off Mr Stuart's comments and said: "It's all a part of the democratic process."
She said: "He has the right to say whatever he wants. We are a part of the same team and I think we both want what is best for the party. I am prepared to fight for the position. His views are his business. May the best person win."