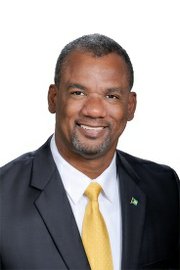 JEROME Fitzgerald, Minister of Education, Science and Technology, visited the Bahamas Technical Vocational Institute (BTVI) and the College of The Bahamas (COB) to get a first hand look at the institution.
Mr Fitzgerald, accompanied by other ministry officials, said he was very impressed with the tremendous work that was taking place at BTVI.
Sewing, cosmetology, electrical installation, masonry, student affairs are some of the classroom blocks visited on the walkabout.
The minister chatted and greeted students, including some government and private school students representing the Technical Cadet programme.
He was officially introduced to faculty and administrators.
He said the foundation was in place to improve and put financial and human resources behind the institution.
"Applied sciences, as indicated in our Charter for Governance, is going to play a very critical role in the development of our country and improving the level of skills of our young men and women to make sure they are in a position to be qualified for gainful employment.
"I am particularly excited about the opportunities that exist and am satisfied that with the foundation laid here we have a great foundation to build on," he said.