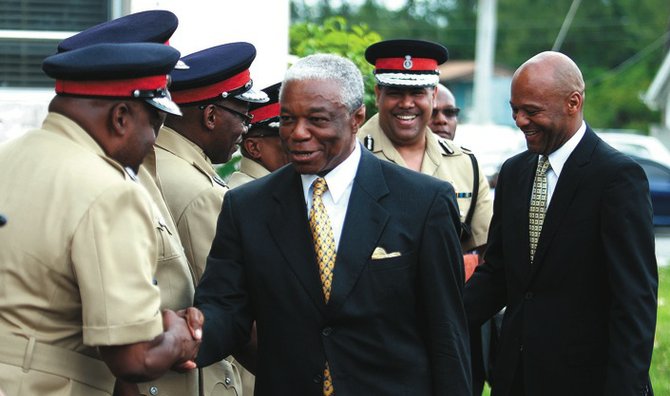 By KHRISNA VIRGIL
kvirgil@tribunemedia.net
MINISTER of National Security Dr Bernard Nottage yesterday said reducing the murder count is not only realistic, but necessary as the government moves forward this year.
Already police have predicted that murder numbers could exceed last years record of 127, as five months into 2012, the murder count stands at 53.
Dr Nottage said the government is in the process of setting targets along with policies and operations to combat crime, a feat that marred the previous Ingraham administration. He said: "We are setting targets for ourselves and we are seeking to devise the policies and the operations that will help us to reach those targets."
"We must reduce for example the number of murders. We cannot carry on like this. There are far too many guns in this country we must find them, we must find the perpetrators, and we must put them behind bars, we must destroy the weapons (and) the drugs."
"To be realistic it is necessary. We must get control of it and we must get control of it now. "
Urban Renewal 2.0 is also set to begin in the coming weeks, which according to the PLP will be a major driving force in lowering crime in inner city communities.
State Minister for National Security and overseer of the initiative Keith Bell said the improved version will have a renewed focus with trained professional at the forefront.
"What you are going to see is a renewed focus whereby we've started looking at the centres already. We've started to look at other agencies to ensure that they get their people on board."
"During the last administration persons indicated that persons who were untrained were in charge of the programmes, that was never the case. What we intend on doing is to ensure that professionals from all of the respective ministries are in the communities. They will be supported by the community who will realise that they are stockholders and they will decide their own destinies in terms of what happens in their communities."
"You are going to see our officers on patrol and you are going to see some new programmes that are currently in the making."
Mr Bell added that the Ministry along with Deputy Prime Minister Philip Davis are also in talks with several ministries, including housing, social services and health that will also be involved in the initiative.