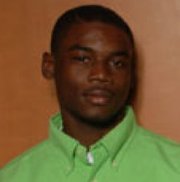 By BRENT STUBBS
Senior Sports Reporter
bstubbs@tribunemedia.net
SHAVEZ Hart was the fastest man at the National Junior College Athletic Association's Track and Field Championships, pulling off the sprint double Thursday to lead a host of Bahamians in action in Levelland, Texas.
Competing on their home turf at South Plains College, the Grand Bahama basketball star from the St George's Jaguars, produced a winning time of 10.28 seconds in the men's 100 meters.
His team-mate Trevorvano Mackey of Doris Johnson crossed the line in third in 10.35. Another Bahamian, Alfred Higgs, competing for Iowa Central Community College was seventh in 10.57.
During the preliminaries on Wednesday, Mackey had the fastest time of the trio at 10.41 for second overall and second in his heat. Higgs got third in the same heat for fourth overall at 10.51 and Hart won his heat for fifth overall at 10.52.
Hart came back on Thursday and also stopped the clock at 21.02 to capture the men's 200 with Mackey settling this time for fourth place in 21.27.
In their preliminaries on Wednesday, Hart ran the second fastest time of 21.15 to win his heat with Mackey seventh at 21.31 after he also won his heat.
Higgs ran 21.41 for the 10th best time but it wasn't enough to get him in the final. He was second in his heat.
Prior to the sprint double, the two combined to help South Plains to a second place finish in the 4 x 100 relay in 39.94 behind Barton County's winning time of 39.80. Mackey led off and Hart ran second.
In Wednesday's preliminaries, South Plains won their heat in 40.11 for the second fastest qualifying time.
There was also a 1-2 punch for the Bahamas in the men's 400.
O'Jay Ferguson, a freshman at Western Texas College, ended up fifth in 46.97, while Grand Bahamian Alonzo Russell, also a freshman at Essex Community College, trailed in sixth in 48.21.
The winning time was 46.00 by Bralon Taplin of South Plains.
In the preliminaries on Wednesday, Ferguson did the fifth best time of 46.84 after he got second in his heat, while Russell had the 8th best of 47.34 with a third place in his heat.
Before he was done, Ferguson helped Western Texas close out the meet by running the third leg on their second place 4 x 4 relay team that ran 3:06.52 behind South Plains' winning time of 3:05.99.
In the preliminaries on Thursday, Ferguson ran the third leg as well as Western Texas turned in the fastest qualifying time of 3:10.62.
On the women's side, Exuma's Gortia Ferguson, a sophomore from Colby Community College, ran 12.07 but that was only good enough for the eighth and final spot in the 100.
Ferguson placed third in her heat for the final qualifying spot.
Before she was done, Ferguson anchored Iowa Central to a second place in the final of the women's 4 x 4 relay in 3:44.88. South Plains won in 3:47.45.
In their preliminaries on Wednesday, Adderley also anchored Iowa Central to a fourth place overall in the 4 x 4 in 3:52.51 after they got second in their heat.
And Nassau's Te'Shon Adderley, a sophomore from Iowa Central Community College, did a middle distance feat in the 800 and 1,500.
Adderley opened up the day with a 10th place in the 1,500 in a time of 4:59.55. Natoya Goule of South Plains took the victory in the field of 12 competitors in 4:41.69.
In the preliminaries on Wednesday, Adderley had the 11th fastest time of 5:03.73.
Later in the day Thursday, Adderley came back in the 800 where she was fourth in a time of 2:13.74. Goule went on to post a double dose of victory in 2:09.54.
Adderley had the fourth fastest time of 2:17.44 in the preliminaries.