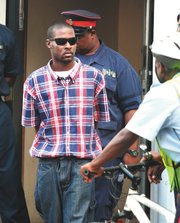 A CONVICT spent his first night of 54 years in prison last night after being sentenced by a judge for a nightclub murder seven years ago.
Francis Toussaint, 27, appeared before Justice Roy Jones yesterday to learn his fate for the January 30, 2005 murder of Phillip Moss. Moss had been stabbed outside Da Bing nightclub during the early hours.
He had been followed outside the club by a group of men, including Toussaint.
Justice Jones, after taking into account a probation officer's report, a mitigation plea from defence attorney Shaka Serville and the circumstances surrounding the case, sentenced Toussaint to 55 years in prison for murder.
However, he subtracted the 12 months the convict had served on remand before being released on bail in 2006, and Toussaint ended up with a punishment of 54 years at Her Majesty's Prison effective from the date of his conviction.
Toussaint had maintained his innocence throughout the trial and his girlfriend, who he claimed was with him at time of the incident, had taken to the witness stand to back him. Toussaint had claimed it was a case of mistaken identity.
She admitted however that she could not account for his whereabouts between 3am and 7pm on the day.
Toussaint was convicted on March 29 and was remanded to prison until yesterday when a probation officer gave an account of his progress before the judge sentenced him.
Sonya Saunders, a chief probation officer from the Department of Rehabilitative Services, told the court that the father of one son was described by those interviewed as quiet, non-aggressive and supportive.
She said the accused told her that he worked, but she was unable to speak with past employers because he was unable to identify them by name.
Mr Serville, Toussaint's attorney, asked the judge to take into consideration that neither prosecutor Ambrose Armbrister nor the probation officer said Toussaint couldn't be rehabilitated.
He also asked the judge to bear in mind that Toussaint suffered from sickle-cell since the age of nine and was normally hospitalised three times a year, according to the probation report.
The judged acknowledged his points and those raised by the prosecution.