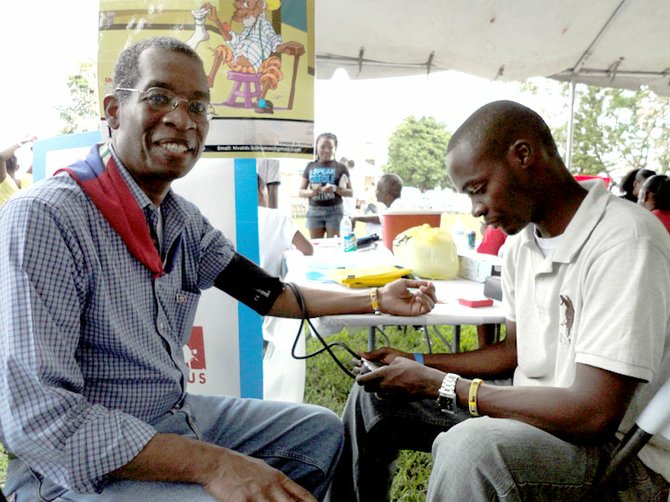 The Ministry of Health and its agencies offered essential health screenings at the Haitian Flag Day event coordinated by the Haitian Embassy, Saturday. The initiative was the ministry's latest in an ongoing attempt to provide health screenings at public events and non-traditional sites.
Healthy lifestyle counseling, free glucose and cholesterol screening, blood pressure readings, and rapid HIV testing were accessible to those attending the annual cultural festivity held on the upper grounds of the National Museum.
"It was a good partnership between the Embassy and the Ministry of Health. They brought another level to the Festival so it was not just entertainment, but something practical and important for the attendees' health and well-being, not just to have fun but to test cholesterol, blood pressure and other blood tests," said Haitian Ambassador, Antonio Rodrigue.
The health team is committed to attending public events and offering healthy lifestyle services. Recent testing sites include the National Family Island Regatta in Exuma, Fish Fry at Arawak Cay and the Mall at Marathon. The team is scheduled to be at Arawak Cay again on Sunday, May 27 beginning at 8pm, to offer complimentary essential health screenings to the public. Free phone cards are usually offered to the first 100 persons being tested at public sites.
The Ministry of Health programme, which is a PEPFAR project (U.S. President's Emergency Plan for AIDS Relief), worked in collaboration with the HIV/AIDS Centre and the Bahamas Red Cross.
At the Haitian heritage festival, most patrons dressed in the Haitian flag colours - red, blue and white - as a mark of patriotism, celebrating with Creole food, music, dance, and other activities. Haitian Flag Day has been celebrated each year since the 1930s.