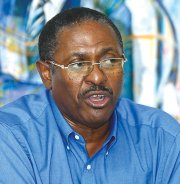 By DANA SMITH
dsmith@tribunemedia.net
PLP chairman Bradley Roberts has appealed to Bahamians to give the government "some time" to implement its crime fighting plans.
Appearing yesterday as a guest on the radio show Real Talk Live hosted by Ortland Bodie, Mr Roberts did not specify how much time is needed, but in the PLP's Charter for Governance plan, the party spoke of a 100 Day Initiative which recognised an "immediate" need for action.
On the show, the party chairman acknowledged the high levels of crime plaguing the nation and assured the public of the PLP's commitment to reducing crime.
"We have a major, serious problem of crime in our country - particularly here in New Providence. It is a very vexing and serious problem," he said.
"We've just been the government now for a few days. Some of our ministers have not yet even been properly assessed of their office because they've had to make some changes and that will definitely be completed this week."
Quoting the Charter For Governance plan, Mr Roberts remarked that National Security Ministers Dr Bernard Nottage and Keith Bell have "hit the ground running" in meeting with "major security forces" and "mapping out plans".
"I ask the Bahamian people to give them some time to properly implement their programme, to be able to monitor and to be able to assess what's going on," he said. "There is a very strong commitment to reduce crime in our country, let nobody be in doubt about that."
In response to a caller's query about the Bahamas' rising crime rate, Mr Roberts echoed the same sentiments and stated he believes it is a government's responsibility to keep the public safe.
"The PLP recognise and accept that fact, but my God, give us some time. We have committed ourselves and we dedicate ourselves to bringing about a reduction in crime in this country. We will go where the FNM failed to go and where we had advised them to go and what to do.
"We will implement the plan. You do not plant a seed today, expect it to germinate today and to produce fruit before sun go down," Mr Roberts said.
"Please give the team of Dr Nottage and Mr Keith Bell an opportunity, along with the government agencies responsible for law enforcement, to get the job underway."
The Charter For Governance plan, which was released near the end of the party's successful election campaign, stated: "Bahamians are in pain and immediate action to counteract this is needed on a number of fronts."
Launching key elements of Project Safe Bahamas and Operation Cease Fire, including the reintroduction of Urban Renewal to "immediately reinvigorate the fight against crime and violence," was among the promises.
Mr Roberts said yesterday the details of the project will be disclosed "at the earliest opportunity in the House of Assembly" and added that it will see the restoration of police involvement.
"That programme worked during the Christie administration time and it was able to put a lid on crime and contain crime," he said. "We will re-introduce that with some additional features so it takes time. We have to work out the details with the police and Defence Force."
Dr Nottage confirmed last week that Urban Renewal is already in the works and will be up and running within the next two weeks under the leadership of Mr Bell.