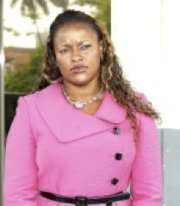 By AVA TURNQUEST
Tribune Staff Reporter
aturnquest@tribunemedia.net
OUSTED Deputy Director of Public Prosecutions Cheryl Grant-Bethell may be set to return to government to claim the title she felt was hard-earned.
Prime Minister Perry Christie said he plans to conduct an independent review of Mrs Grant-Bethell's application for the post of Director of Public Prosecutions.
"I did meet with Cheryl Grant-Bethell (yesterday)," Mr Christie said.
"I'm not as familiar as I could be with the issues affecting her, I gave her an undertaking that I will make myself familiar with those issues. We do have a Director of Public Prosecutions under contract, when you come to government, notwithstanding the best views articulated, one has to exercise good judgment when it comes to people who are in post."
The former Deputy Director of Public Prosecutions was locked in a bitter dispute with the Ingraham administration over her failure to be appointed Director of the department.
The DDPP of nine years was instead promoted to Deputy Law Reform and Revision Commissioner for a salary increase of $35 per month, a move she defined as a personal attack.
Speaking on the matter in the House of Assembly last year, former Prime Minister Hubert Ingraham indicated that he had "good and valid reasons" for not making Mrs Grant-Bethell DPP. He said he had previously supported Mrs Grant-Bethell for the DPP's post, but ultimately withdrew his support based on unspecified "information" that he had received, which he said gave him "good and valid reasons" to withdraw.
Mrs Grant-Bethell filed an application for judicial review after the appointment was given to Jamaican lawyer Vinette Graham Allen.
Senior Justice Isaacs refused to overturn Mrs Graham-Allen's appointment to the post of DPP; however, he noted in his judgment that the Judicial and Legal Services Commission "failed to treat her fairly and that the advice tendered to the Governor General was flawed because the JLSC considered material they should not have had in their contemplation when they purported to do so".
Speaking at the swearing-in ceremony for PLP senators, Mr Christie added: "Ms Grant-Bethell is fully aware of my own authority in this matter. I will in good faith examine the position - and independent of the Attorney General - I will arrive at my position as what is the right thing to do in all of the circumstances."