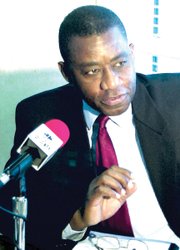 By NEIL HARTNELL
Tribune Business Editor
THE Bahamas needs to be "well on its way within the next two years" to implementing a VAT/sales tax regime, the Ministry of Finance's leading consultant said yesterday, adding that this nation's tax revenues - as a percentage of GDP - were 10 points below the Western Hemisphere average.
James Smith, the former Central Bank governor and minister of state for finance, said broadening the Bahamas' tax base was essential to bridging a revenue "gap" that appeared structural in nature, especially given assertions from the newly-elected Progressive Liberal Party (PLP) government that the fiscal deficit for the 2011-2012 Budget year was likely to reach close to $500 million.
Suggesting that the Government design a schedule for implementing a value added tax (VAT) or sales tax "as a matter of urgency", Mr Smith added that its other priority should be to stimulate a private sector recovery and get the economy growing "at a much faster rate".
Acknowledging that the Bahamian economy was facing "very serious challenges" when it came to growth and job creation, the current CFAL chairman also warned that this country "can't continue on the same path without getting into enormous trouble" when it came to the Government's finances.
The former Ingraham administration had projected a total $314 million fiscal deficit for the Budget year to end-June 2012, but both the Deputy Prime Minster, Philip Davis, and PLP chairman, Bradley Roberts, have argued that the final outturn is likely to be closer to $500 million.
Mr Smith, who is advising the Christie administration's Ministry of Finance 'behind the scenes', yesterday described the $500 million deficit projections as "quite worrisome".
"That's very troubling in the sense that it's larger than last year's, which suggests we continue on an upward trend," he told Tribune Business of the new fiscal deficit projections.
"It also suggests there's been no dramatic change in the revenue line, and that expenditure is also trending upwards. It has the appearance of being structural in nature."
The former government's Budget projections had estimated that the total 2011-2012 fiscal deficit would come in at a sum equivalent to 3.8 per cent of Bahamian gross domestic product (GDP). A $500 million deficit, though, would be equivalent to 6.1 per cent of GDP.
Analysing the implications if the final outturn was closer to $500 million, Mr Smith told Tribune Business: "That's a really large number. I think it's quite worrisome from the macroeconomic point of view, because when you look at it just in terms of the Government's fiscal position, revenue is not performing at a level to sustain expenditure."
The gap between government revenues and spending first emerged in the 2008-2009 Budget year, producing a total deficit of $430 million. That increased to a $514 million peak in the 2009-2010 fiscal year, before reducing slightly and $206 million in 2010-2011 (aided by the Bahamas Telecommunications Company (BTC) privatisation and Baha Mar/BORCO deals).
Mr Smith said the Bahamian government's revenues, standing at between 16-18 per cent as a percentage of GDP, were "about 10 points below the average in the Hemisphere".
Absent any sudden explosion of economic growth, he added that the Christie government's options were to either raise more revenue, curtail public spending or a combination of both when it came to controlling the fiscal deficit and, by extension, the national debt and its GDP ratio.
"We can't continue on the same path without getting into enormous trouble," Mr Smith added.
When asked by Tribune Business about the need to implement an alternative form of taxation in the Bahamas, either a sales or VAT tax, he replied: "That should be done almost immediately. Enough research has been done on it, and I believe an implementation schedule should be drawn up as a matter of urgency."
Asked about the timescale the Bahamas should follow in implementing a VAT, Mr Smith responded: "We probably need to be well on this course within two years."
The likes of the International Monetary Fund (IMF) and Moody's, the Wall Street credit rating agency, have both urged the Bahamas to implement a VAT tax. They argue that it will address the issues international trade agreements will create for the current import-duty based tax system, plus address the relatively poor revenue yields.
Most major industrialised countries have employed a VAT tax for years, given that it generates revenue yields - and is levied - at each stage of the production process.
In addition, a VAT would also capture services industries - the majority of the Bahamian economy, which is currently relatively untaxed. Mr Smith told Tribune Business that a VAT "suggests itself, in so far as it broadens our tax base to include both goods and services".
With Bahamian consumer consumption down, unemployment remaining stubbornly high and tourist spending relatively flat, Mr Smith said the main revenue drivers for the Government were not in the best shape.
"The macroeconomic indicators as they line up indicate very serious challenges for the economy going forward that have to be addressed, and those are of a structural nature. It's not easy," Mr Smith told Tribune Business.
"What we need above all is to grow the economy at a much faster rate, and there are no short-term fixes for economic growth, so we would need to concentrate on growing visitor arrivals and visitor expenditure. That would impact the largest sector by employment, and similarly we need to look at other measures to expand the economy. We've really got to eke out some economic growth."