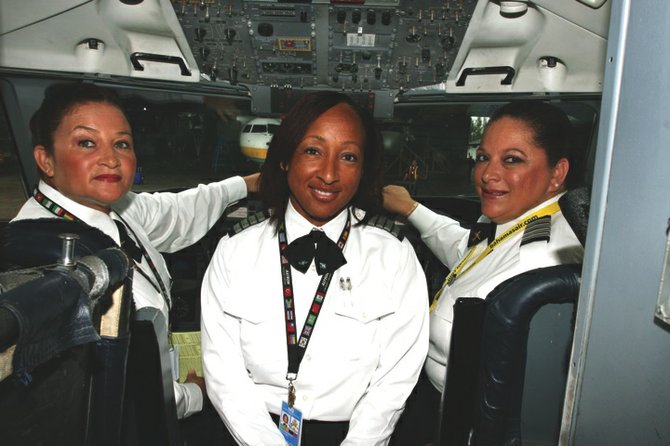 THE nation's airline celebrated history yesterday morning with the induction of the first female captains to its lineup.
Bahamasair Senior Manager in Customer Public Relations and Advertising, Phyllis Johnson, named it an "historic moment in the life of the National Flag Carrier."
Gwendolyn Ritchie, Gail Saunders, and Frances Smith are the newest Bahamasair captains - three of few women to pilot commercial Bahamasair planes and the first women to ever hold the rank of captain within the airline.
Bahamasair managing director Henry Woods said the women's achievement "speaks volumes" of Bahamasair standards as the women stand out in a career field predominantly made up of men.
"We are proud of what these young ladies have achieved," he said. "We are sure they are going to be role models and an inspiration for a lot of people out there, men and women, as an indication of what you can achieve with dedication, sacrifice and hard work."
The newly crowned Captain Smith supported Mr Woods' remarks, admitted that sacrifice and hard work played an important role in her achievement. She also advised young Bahamians: "Aim for the skies and you can achieve whatever you set your mind to."
Captain Saunders said her achievement "feels great" while Captain Ritchie echoed Captain Smith and said she hopes her achievement represents what others can do with hard work.
Bahamasair hired its first female pilot, Patrice Clarke-Washington, in 1984. She would eventually go on to become the first woman African-American major airline captain at UPS.