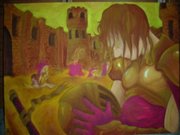 BUDDING artist Daniel Coleby is gearing up for his latest venture, an art exhibition on Saturday that he says will be "visually entertaining".
Daniel has been delving into the arts for several years, and is finally attempting a solo show, exhibiting nine paintings at Buy the Book, Saunders Beach Plaza, on May 26.
"I enjoy using all mediums of art: air brush, tattoo guns, pencil, pen, chalk and more," said Daniel.
Back in 2008, Daniel painted a mural at the National Art Gallery.
"I have been doing art related activities my whole life, but recently took an interest in oil paint. This was the first time I had complete creative control; there were no restrictions to how or what my vision should look like. I feel this was an excellent way to get the audience ready for what they should expect from me as an artist," he said.