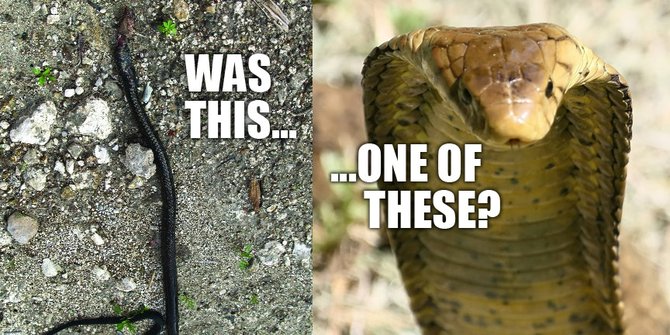 By DENISE MAYCOCK
Tribune Freeport Reporter
dmaycock@tribunemedia.net
FREEPORT - Department of Agriculture officials are trying to locate a snake that was stoned to death in Williams Town to determine whether fears that it was a deadly cobra are true.
Despite witnesses insisting it was indeed a cobra, the department's assistant superintendent Harold Johnson said locating the carcass and sending it for testing in New Providence is needed for positive identification.
Cobras are not indigenous to the Bahamas. Its venom is lethal and a person could die if not treated with anti-venom serum.
An e-mail was sent to The Tribune on Wednesday of photos of the dead snake. The story was carried in The Freeport News, with the headline "Cobra discovery sparks concern".
Two male residents described their frightening encounter with the snake. They say it stood up in a striking position with its hood expanded, and lunged at them.
In the e-mail, the sender said the two young men were cousin and nephew.
"It flared its hood and stood on its tail and rocked back and forth striking at them - they smashed its head with a rock," she said.
The sender also stated that Hugh Ferguson of Budget Pest Control examined the dead Cobra.
Snakes native to the Bahamas are not harmful. Cobras are ranked among the world's top 10 most deadly snakes.
Mr Johnson said that it is against the law to import non-native snakes, including Cobras, into the country. Permits are not granted for such snakes, he said.
Although the description of the snake seems similar to that of a Cobra, Mr Johnson believes that it could have been a Brown snake, which is native to the Bahamas.
"We are trying to find the snake to determine whether or not it is a Cobra. From what I have read, I am not convinced.
"We do have snakes down here, such as the Brown snakes, that are very aggressive like the Cobra. It is not poisonous but...it stands up and spreads its head - it would move in every direction you move. It could be a Brown snake."
Mr Johnson stressed that it is important they retrieve the snake and send it off to Nassau for verification.
The Tribune spoke with Hugh Ferguson of Budget Pest Control.
He said he was unable to determine whether the snake was a cobra because the head was destroyed.
"We are not sure what we are dealing with right now. The snake was destroyed. Its head was smashed and separated from the body, and so the identity is very difficult," he said.
Mr Ferguson said based on the description given by persons who encountered the snake there is a possibility that it was a non-native species.
He said there are non-native species here on the island such as the corn snakes, which are also aggressive but non-venomous.
Mr Ferguson retrieved the snake on Tuesday afternoon. He said it is black with grey speckles, but the head, which has prominent identification features, is badly disfigured.
"We can't say with 100 per cent certainty that it was Cobra," he said. "We are trying to send the photos off to the University of Miami and to the Philippines so experts can have a look at it," he said.
Mr Johnson said persons should always contact the Department at 352-2144 whenever they come in contact with a non-native species here on the island.