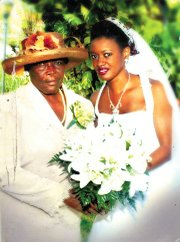 By ALESHA CADET
Tribune Features Reporter
EVEN in her last days, Claretta Victoria Forbes still encouraged all those around her to follow the word of God. A positive and humble person she remained, through sickness and in health, her daughter Jacquelyn Forbes said.
It was the struggle of living with hypertension that took the life of 81 year old Claretta. Jacquelyn said she still remembers the off and on trips to the hospital with her mother, not knowing January 18, 2010, would be her final trip.
Jacquelyn said: "At one point she was in the hospital for about two weeks. When she came out, she was immobile and had a poor appetite so we ended up taking her back about two weeks after, and she died in the hospital shortly after."
When she remembers her mother, Jacquelyn said she wants people to know about her life and her positive outlook on life.
Whenever she was going through hard times, Jacquelyn said her mother would quote Psalms 91, which states: "He who dwells in the shelter of the most high, who abides in the shadow of the almighty, will say to the lord, my refuge and my fortress, my God, in whom I trust."
"There was a time I was not feeling too well, I was feeling down in spirit. She would direct that scripture to me and I understand what it meant because it was what I was feeling at the time," she said.
Jacquelyn and her four siblings got their sense of humor from their mother, who taught not to take life too seriously. She said she would often catch her mother "cracking" jokes on them, just to make them laugh and keep a smile on their faces.
"I think being born in hard times made her a strong person, she left school at an early age to work. I have seen her prayers answered when my father was out of work for a while. Our cupboards were empty and people would offer us bags of grocery," said Jacquelyn.
Putting her love for baking and sewing to work, Jacquelyn said her mother would often bake large amounts of Johnny cake and potato bread for them.
"She learned how to sew and became an excellent seamstress. She would sew clothing for adults, kids and family members on the island. She also had a keen eye for fashion and loved nice outfits. From the hats to the all out outfits, she did it," said Jacquelyn.
In all things, Jacquelyn said her mother never forgot the power of prayer and what it meant to her. As a member of her church's prayer team, Ms Forbes would make it her duty to join in on prayer street meetings, going around the community to spread God's word.
"My mother had wisdom beyond measure. She was indeed a shinning star and she believed in a Godly upbringing for her family, especially her children. With her, you had to attend church on Sunday, prayer meetings and vacation bible school in the Summer," said Jacquelyn.