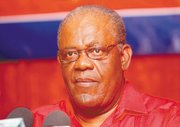 By KHRISNA VIRGIL
kvirgil@tribunemedia.net
HUNDREDS of staunch FNMs will gather Saturday for one of the party's most highly anticipated conventions where supporters will see a new leadership emerge.
The one-day event is slated to take place in two major sessions at the Trinity Activity Centre, McKinney Avenue, Stapledon Gardens. Although the event begins at 8am, outgoing leader and former Prime Minister Hubert Ingraham will give a farewell address at 9am.
A number of closed sessions will then follow before the party's newly elected leaders are officially announced at the convention's final meeting, which begins at 7pm and is also open to the public.
FNM Chairman Carl Bethel earlier this week told The Tribune the convention shows that the party has heard the voice of the Bahamian electorate and its 65,000 supporters.
He said: "(The Free National Movement) is prepared to respond positively and proactively to meet the challenges of being the official opposition, while laying a firm and enduring foundation for an early return to government."
The leader position of the FNM was left to be contested after Mr Ingraham announced he would step down following the party's landslide defeat on May 7.
Hours after it was declared that the FNM had not been re-elected as the Bahamas' governing party, Mr Ingraham said he would not take his seat as the FNM's MP for the North Abaco constituency.
Last year former Foreign Affairs Minister Brent Symonette also said he was stepping down from frontline politics.
Almost three weeks ago, Dr Hubert Minnis, who is the party's Member of Parliament for the Killarney constituency was unanimously elected as the leader of the FNM. He was later sworn in as the official leader of the opposition. Since then, party officials have said no one would run against him.
On Thursday night, unsuccessful election candidate Cassius Stuart announced he would pull out of the race for the FNM's deputy leader, leaving newly sworn in Long Island MP Loretta Butler-Turner and former Education Minister Desmond Bannister to battle for the position.
Former FNM senator Dr Duane Sands, Carl Bethel who served as FNM chairman for several years, former Youth, Sports, and Culture Minister Charles Maynard, and former Senator Anthony "Tinny" Musgrove have offered themselves for the party's chairmanship.