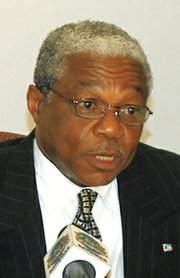 By DANA SMITH
dsmith@tribunemedia.net
NATIONAL Security Minister Dr Bernard Nottage outlined a bleak situation at the nation's prison following an extended "bird's eye view" tour of the facility.
At a press conference at Her Majesty's Prison, Fox Hill, Dr Nottage said he was pleased by some changes, but there are still problems that need to be addressed such as unsanitary working conditions and prisoner overcrowding.
"I was here before in a ministerial capacity, about six years ago or so, and I am pleased to see that there have been many physical changes," he said.
Dr Nottage named the introduction of "many innovative programmes" in education and the installation of remand courts within the prison as all being "very helpful."
"But there are some problems which I've been exposed to this morning in terms of accommodation, in terms of overcrowding - which is really no longer acceptable," he said.
"The very large number of persons who are on remand are far in excess of those who are actually sentenced and incarcerated as a result of that.
"And to note that in spite of the electronic monitoring - which enables additional people to get bail, the overcrowding hasn't gotten better."
Dr Nottage noted he saw up to six prisoners in a cell designed for two leaving some to "virtually sleep on the floor."
"It is a very sober feeling for me, walking around the prison and seeing all these black young men, hail and hardy, being warehoused - is the best word I could use for it,
"I'm sure the superintendent wouldn't like me to say that of his prison - but it's what I see," he said.
Because of the number of prisoners, Dr Nottage emphasised the importance of the government's focus on crime prevention.
"The truth of the matter is, the prison is not a good reflection on our society," he said.
"What I mean by that is we have to create a society in which young people who have potential also have ambition and a system of values by which they guide their lives - Christian values, if you like - but even if not Christian, a positive belief in something."
He said it's not a problem that can be fixed "quickly" but the government's crime agenda is "geared towards not incarcerating people but trying to prevent crimes."
The chairman of the Police Staff Association, Gregory Archer, accompanied Dr Nottage on the tour and "very forcefully pointed out many of the inadequacies" in the officer's working conditions.
"They have serious sanitation problems, shortage of staff, (and) the superintendent has asked us to provide another 50 officers. But when I see the situation in which these officers work, I just wonder if even that is enough," Dr Nottage said.
In addition to being understaffed and overcrowded, the prison still lacks running water during certain times - though Mr Archer noted the problem is being worked on - and the roof of the maximum security facility needs a $600,000 roof repair.
"But the good news is that we have in our establishment here officers that are doing their best, that are seeking to provide opportunities to these young people so that they could be rehabilitated," Dr Nottage said. "The remand system seems to be working very well - very modern, they've got a very modern health-care facility in the maximum security area... so it isn't all bad. I think that Dr (Elliston) Rahming runs a very progressive institution and I want to congratulate him for it.
"We will bring all those things that need to be brought to the attention of the government and we will try as much as we can to provide for these matters to be addressed," he said.