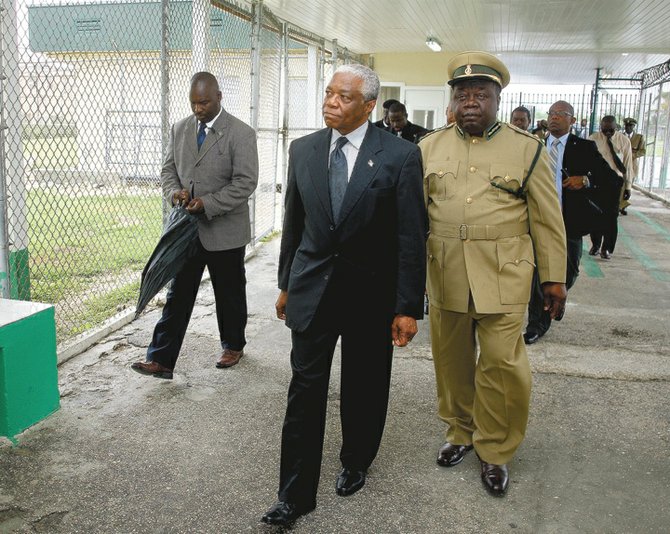 By DANA SMITH
dsmith@tribunemedia.net
PRISON Superintendent Dr Elliston Rahming said the Free National Movement's crime bills share the blame for the pressing problem of overcrowding at Her Majesty's Prison.
Dr Rahming pointed out the extent of the problem to the new National Security Minister Dr Bernard Nottage yesterday, who called the situation "unacceptable".
Dr Nottage said it was "inhumane" to have prisoners "warehoused" in cramped cells.
"In Maximum Security, my understanding is that they may have four, five, up to six people in a cell that's meant for two," he said, also noting the number of persons on remand far exceeds the number of sentenced prisoners.
Dr Rahming explained that the Maximum Security facility was designed to house 450 inmates, but now has a population of more than 800.
"Now part of the problem is in November, thereabouts, last year, when the new laws were passed, we experienced a deluge of persons coming to prison as opposed to going on bail. So that has significantly bloated our population," he said.
"Up to October of last year, our daily population was about 1,300 now it's around 1,550 on a daily basis. Along with the passage of those bills there now has to be a mechanism by which there can be a greater outflow of persons from prison - small-time, minor offenders, perhaps, or even diversionary programmes away from the prison to community service and so forth."
Last year, the FNM government passed a package of 11 bills meant to stem crime through an overhaul of the penal code, including increased sentences for serious crimes, procedures for appeals and placing tighter restrictions on when judges can grant bail.
Dr Nottage had said earlier the government is looking into reviewing the severity of sentences for criminals.
"Everything is under review. A lot of the persons who have been - I can't call them victims - who have been convicted have made certain approaches to us about the severity of some of the sentences," he said last week.
He said yesterday: "One of the public relations problems that we have is that whenever we talk about releasing people from prison - because we saw a few young men to whom we spoke this morning who you may feel could be better in some other alternative arrangement - but today people are so fearful of crime and so concerned about crime that they really don't want you to release anybody. They want everybody to be in prison for five years, 10 years, 50 years, 30 years, but the truth of the matter is the facility we have cannot accommodate that . . . We really need to look at what the policy is about these matters."
Dr Nottage refuted claims the PLP is "soft on crime," explaining the government's agenda places focus on rehabilitation rather than just incarceration. He also spoke of a new Corrections Bill.
"There also has been for some time, successive governments have promised, a new Corrections Bill which would address many of the issues that we are speaking about now," he said. "That is something that is on our crime agenda, to pass the new Corrections Bill, so that the whole new philosophy of corrections as opposed to incarceration or to being in prison, is something that we would like to push to change the whole mindset," he said.
When asked to respond to Dr Rahming's claim the FNM's Bills contributed to overcrowding, FNM leader Dr Hubert Minnis declined to comment as he had not heard the statement and did not know the context.
"I know that we've always said the prison was overcrowded, but as to exact details - I can't make a comment at this particular time," he said.