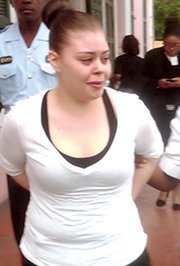 By LAMECH JOHNSON
Tribune Staff Reporter
ljohnson@tribunemedia.net
A TEENAGER sobbed with tears as she left court yesterday acquitted by a jury of her mother's murder.
Madison Pugh, 19 of Pennsylvania, USA, broke down outside of court after her name was cleared of the 2009 murder of Anna Garrison on the orders of Justice Roy Jones.
The judge directed the jury, which had been excused for two days while counsel and the judge had privates discussions, to deliver a not-guilty verdict on Ms Pugh.
The discussions in the absence of the jury, between Justice Roy Jones, prosecutor Ambrose Armbrister and defence attorney Elliot Lockhart, were sparked by Mr Lockhart's objection on Tuesday to an alleged DVD recorded interview between a US-based policeman and Madison Pugh being admitted into evidence.
When the jury returned to the court, the judge informed them that there was 'insufficient evidence' in the case against Pugh and ordered them to find her not guilty.
The direction was preceded by prosecutor Ambrose Armbrister telling the court that the Crown was closing its case against Pugh.
Ms Pugh, 19, who is Anna Garrison's daughter, and Zyndall McKinney, 25, Pugh's former boyfriend, were accused of killing Anna Garrison, who went missing in February 2009 only to be found to be found on Fox Hill Road on July 4, 2009, US Independence Day.
McKinney is from Marathon Estates. Anna Garrison was living in the Bahamas at the time of her death.
She was found dead in multi-coloured sheets that covered up her decomposed body.
McKinney and Pugh each denied the charge of murder.
McKinney is still on trial and the prosecution yesterday continued its case against him.
However, when Inspector Antoine Rahming took the witness stand to give evidence about his recorded interview with McKinney, defence attorney Murrio Ducille rose suggested there were legal issues that needed to be dealt with in the absence of the jury.
The trial resumes next week.