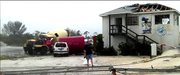 MURPHY TOWN, Abaco – An assessment team lead by Captain Stephen Russell, director of the National Emergency Management Agency, conducted an inspection of the damage caused by a tornado that stuck the settlement last week Thursday.
William Krezel, structural engineer at the Ministry of Public Works and Transport, and Leading Mechanic Sydney Larrimore of the Royal Bahamas Defence Force's technical department, accompanied Captain Russell.
The team discovered that four properties were "clearly impacted" by the severe weather system which passed through the islands of Bimini, Grand Bahama and Abaco.
Before the storm struck, the Met Department issued a thunderstorm alert, warning of strong gusty winds, dangerous lightning, heavy downpours and possible tornadic activity.
The four properties impacted were:
• A duplex unit. The lower panels of a door were blown out and the roof suffered minor damage.
• A laundromat with an apartment. The team found a damaged roof covered by tarpaulin. A downed utility pole nearby was quickly replaced and electricity was restored to the general area.
• A triplex unit. A portion of the roof one of the units was blown off.
• The Abaco Block and Concrete Company.
The structural engineer is examining the integrity of the triplex to determine if it was safe to live in. The 12 inhabitants have been temporarily relocated with the assistance of the Department of Social Services.
Production has been compromised at the Abaco Block and Concrete Company due to damage to its building, equipment and vehicles. The manager noted that it could take at least three weeks to be back in operation.  
The assessment team noted a jeep tangled in heavy duty power lines, and that a 4,000 gallon fuel tank appeared to have been tossed into the air, landing about 500 feet away from its original location.
"We are thankful to God that there were no fatalities or injuries during the passage of that severe weather system," Captain Russell said.
He said if ever caught in such a storm, individuals should stay calm and seek shelter immediately.
Captain Russell advised the keeping of a portable TV/radio and flashlight in the shelter, and the wearing of shoes to protect feet from broken glass and other debris left in the wake of the storm.
He said: "Protect your head and chest by crouching face to floor with hands behind their head, cover up with blankets, pillows or coats, hide under sturdy furniture, and avoid candles, gas lanterns and oil lamps.
"At school or in an office, seek designated shelter in the interior rooms or hallways on the ground floor or lowest floor possible. Avoid auditoriums and gymnasiums.
"In shopping malls, seek smaller interior shops on the ground floor and avoid large open rooms as well as the south and west walls.
"Evacuate mobile vehicles and seek shelter in a substantial structure, ditch or culvert."