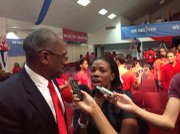 By CHESTER ROBARDS
Tribune Senior Reporter
crobards@tribunemedia.net
NEW leader of the Free National Movement Dr Hubert Minnis said the government is already running away from its campaign promises.
He insisted during his speech at his party's national convention Saturday, that the new opposition party will hold the PLP–led government to its pledges.
"We will not oppose for the sake of opposing," he said. "But, in those times when our people cry out, we will be there.
"Already, many of the same old faces are back in the same places where they proved to be unproductive and self-fulfilling."

PLP chairman Bradley Roberts issued a statement yesterday in response to Dr Minnis, calling his comments an attempt to "distort the record of the PLP government."
He added: "It was as if Dr Minnis was unaware that the election was over and the votes had been counted and the majority of Bahamians had overwhelmingly rejected the policies of Hubert Ingraham and the FNM."
Mr Roberts hit out at the FNM's term in office, saying the government under former leader Hubert Ingraham caused a decline in the standard of living for Bahamians.
However, Dr Minnis insisted during his speech Saturday that Bahamians were happy the FNM was the party to lead the country through the global recession.
"Despite our loss, we believe that most Bahamians are thankful that it was Hubert Ingraham and the FNM that were in office during this most severe global economic downturn," he said.
"No matter the clever lie by our opponents, we significantly lessened the blows of this downturn."
Mr Roberts also suggested that the FNM did not "believe in Bahamians", but Dr Minnis insisted his party had governed for the people.
"Our extraordinary record shows that we are the party of competence and heart," he said.
"Our opponents are the party of incompetence and pretending to care while failing to deliver in real terms for the people they pretend to care about."
Dr Minnis said his party will fight against poor governance and victimisation by the PLP by being an "effective opposition".