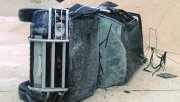 THE Bahamas Meteorological Department is predicting a below average hurricane season this year, with two storms reaching category three strength or higher.
As the 2012 hurricane season fast approaches, the National Emergency Management Agency (NEMA) will be hosting its eighth annual Hurricane Preparedness Week from June 3-9.
During a press conference yesterday at NEMA's main office, chief climatological officer at the Bahamas Meteorological Department Mike Stubbs said the Bahamas can expect an average or below average number of cyclones this hurricane season.
He said there are expected to be ten named storms. Six are predicted to reach hurricane strength, two of which reaching a category three or higher, with winds exceeding 110 miles per hour or stronger.
Mr Stubbs added, however, as already evident this month, above average rain fall is expected as a result of El Nino.
He said: "Cyclonic activity is not expected to be as we have seen in previous years, this may be attributed to the El Nino phenomenon.
"This particular phenomenon has basically two significant impacts with regard to the tropical Atlantic hurricane season. We tend to have in excess of average rainfall – at the same time this same system assists in reducing the formation of tropical cyclones or decreasing their frequency of occurrence."
NEMA's operations and training officer, Luke Bethel, said the Hurricane Preparedness Week will kick off on June 3 with a church service at Ebenezer Methodist Church.
On Friday, June 8, Prime Minister Perry Christie has been invited to Rawson Square to officially launch the preparedness week.
A two-day exhibition will follow, also in Rawson Square, on June 8-9 where members of the NEMA team will be available to provide information and answer any questions regarding hurricane preparedness.
On Thursday, it was reported that a tornado touched down around 3pm in Murphy Town, Abaco. While NEMA could not confirm the reports, disaster manager Gayle Moncur said there were no deaths or injuries, however, three families were displaced and have received emergency assistance.
NEMA director Captain Stephen Russell was in Abaco yesterday assessing the damage and is expected to provide further information on his return to New Providence.
The Department of Meteorology issued three separate weather warnings for Bimini, Grand Bahama, Abaco and their adjacent waters while a severe thunderstorm watch remained in effect for Berry Islands, North Andros and their adjacent waters.
According to a Murphy Town resident Israel Wallace, an employee at Abaco Petroleum Company's compound, sometime after 2.30pm on Thursday he heard a roaring wind.
Before he could do anything, Mr Wallace said, the tornado brushed the compound. He said he was in a 40ft container as it passed, which was slammed with debris.
The roof of a small office on the property was ripped off, one of the fuel trucks moved several feet, and an empty fuel container was flung 100 yards across the road, mangling the front end of one of the cement mixer trucks and damaging another vehicle.
A four-door Mitsubishi Pajero jeep that was parked in front of the office was discovered badly damaged on its side over 100 yards away on the other side of a nearly 20-foot high pile of pea rock tangled in electrical wires.
Mr Stubbs said the severe weather system affecting the country has a 70 per cent chance of becoming a tropical cyclone over the next 48 hours as it leaves the Bahamas to the north-east.