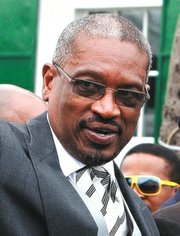 By KHRISNA VIRGIL
kvirgil@tribunemedia.net
OPPOSITION leader Dr Hubert Minnis yesterday branded the PLP's budget communication as a "lame", "blame" plan non-reflective of any promises made to Bahamians by that party on the campaign trail.
Dr Minnis said the Prime Minister has merely done the same deed as he did in 2002 when he put some $15 million in the Budget for their plan yet no one can give an account for the millions allocated.
Prime Minister Perry Christie tabled his administration's 2012/2013 budget in the House of Assembly as newly sworn in parliamentarians met for their second session since the PLP won the majority on May 7.
Noting that the FNM, were heavily criticised for "borrowing too much" by the PLP, Dr Minnis said the budget is in many ways the same as presented when the PLP took office in 2002.
Dr Minnis said: "The Progressive Liberal Party has presented to the Parliament a budget that makes a lame and feeble attempt at delivering a first deposit on its wild promises. It hardly has any offerings in the Budget that represents the new and innovative initiatives it promised the Bahamian people."
He further accused the Christie administration of "manipulating the numbers to make the present circumstances appear worse."
Former State Finance Minister Zhivargo Laing while saying the previous FNM had always exercised transparency with public funds, further explained how the government could have tabled inflated figures for the national deficit in its new fiscal budget.
Mr Laing said: "We were the ones who said to the Bahamian public the road project is over budgeted by some $93 million. That number didn't just happen to fly somewhere, they got that number from us. We indicated on every turn, on every project and on every contract that was being signed. We were in the media signing those contracts so there was never any attempt to be anything but transparent in the conduct of this business.
"What is true though," he said, "is that the funding for contracts don't all flow in one year, they flow over budget cycles. But if you want to manipulate the numbers you can charge off cost in a budget and then close your books after that so that you don't carry that expenditure over."