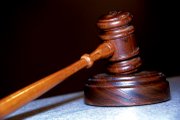 A JUDGE yesterday delayed the sentencing of a manslaughter convict to deliberate on the appropriate sentence given the circumstances and submissions by attorneys.
Justice Bernard Turner will return to court on June 21 to sentence 36-year-old Prince McPhee, whose probation report cast him in a positive light according to his lawyer Murrio Ducille.
Prosecutor Eucal Bonaby told the court McPhee should receive no less than 18 years at Her Majesty's Prison for the death of Bradley Ferguson.
Christina Swain, a probation officer in the Department of Rehabilitative Services, did not present her official report yesterday, but told the court "I recall him saying that he was innocent and saying he was sorry for the life that was lost."
Mr Ducille did not question the officer, only submitting that the report on his client spoke very highly of McPhee - based on his conduct while on remand for three prison years, various persons interviewed, and his clean record save for the manslaughter conviction.
On April 4, McPhee was convicted of manslaughter after the jury unanimously decided he did not murder Ferguson.
On June 26, 2010, Ferguson was shot following an argument with a man, identified by Claudine Symonette as McPhee.
Other witnesses said the argument started when McPhee accused Ferguson of putting his hands on Pearl Johnson, the victim's niece.
The court heard that, following an encounter with Ferguson, Johnson called McPhee, her boyfriend, told him what happened between herself and her uncle, and asked to be picked up.
It was claimed McPhee went to find Ferguson, which resulted in a confrontation. Ferguson was shot multiple times, but McPhee testified he was not the killer. The incident took place in Sequoia Street, Pinewood Gardens.