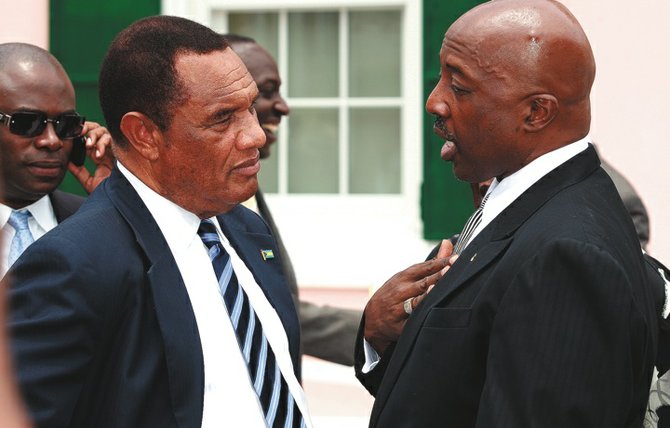 DETAILS of a proposed referendum on a national lottery will soon be made public, Prime Minister Perry Christie revealed yesterday.
During his 2012/2013 budget communication, Mr Christie again pledged to let the Bahamian people decide if gambling should be decriminalised.
Mr Christie also said the public will be consulted about the future of "webshop-type" gaming and the kind of regulations that should govern the practice.
"It is estimated that this area holds the potential to make a significant financial contribution in support of government expenditures on the nation's economic and social priorities in the years ahead," he said.
Mr Christie said if it turns out that the public is in favour of legalised gambling, the necessary legal and administrative framework will be "finalised".
The referendum on a national lottery is one of many promises Mr Christie and his party made during their 2012 election campaign.
However, this is not the first time a national vote on gambling has been considered.
In 2010, former Prime Minister Hubert Ingraham said his government was considering legalising and regulating the local numbers houses.
But after consultation "with a wide range of community leaders and other citizens, including leaders of the church, the government has decided not to proceed with the legalisation of the numbers business", it was later announced.
Mr Ingraham said his government decided against holding a referendum before the general election for fear the public would "mix up the two".
As it stands, gambling in all its forms is illegal for Bahamians and non-citizen residents of the Bahamas.
It has been estimated that a national lottery could pump more than $190 million into the Bahamas' economy annually.
Currently, there are at least 16 independent numbers houses in New Providence alone, with another six in Grand Bahama and a few spread throughout the Family Islands.
Numbers houses employ up to 3,000 Bahamians directly with an annual combined payroll of more the $6 million, Dicrius Ramsey, general manager of Island Luck, told The Tribune in a previous interview.
Making his case for legal gambling, Mr Ramsey said numbers houses also indirectly employ 2,000 Bahamians and have injected as much as $100,000 per month into community organisations.
The Bahamas Christian Council (BCC) has gone on the record to oppose the legalisation of gambling in any form in the Bahamas.