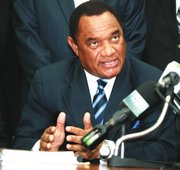 DURING his 2012/2013 budget communication, Prime Minister Perry Christie reaffirmed his government's commitment to assisting homeowners who may be facing foreclosure.
"The loss of a home or threat of a loss is emotionally devastating for any family. We therefore reaffirm our commitment to a mortgage relief programme that will help save the homes of those persons who, by reason of involuntary job losses, underemployment or chronic illness, are no longer able to service their mortgage loan obligations as they were previously doing," Mr Christie said.
The Prime Minister added that preliminary discussions with clearing banks and other institutional lenders have already started and will continue with a view to arriving at a mortgage relief programme in the "shortest possible time".
"In the meantime, we wish to reiterate that the programme was never intended to assist homeowners who have the means to pay their mortgage obligations but simply decided not to do so. We therefore strongly urge all homeowners who have the means to do so, to continue to meet their mortgage loan obligations as and when they fall due," Mr Christie said.
He added: "The first draft of a Bill to administer and regulate pension funds is now complete and will be presented to Parliament shortly.
"As was stated in the Speech from the Throne, we will ensure that employees have access to their pension savings for emergency purposes, including mortgage relief.
"We will do so within the broader context of the revised Bill to which I have referred."
Even before it has been implemented, the PLP's mortgage relief plan has already received considerable criticism from local and international financial experts.
Moody's, a Wall Street credit agency, said if such a scheme were implemented, it would undermine the nation's efforts to rein in its more than $4 billion debt and implied it could lead to a further downgrading of the nation's sovereign credit rating.
However, the PLP has stood by the idea, with its Minister of State for Finance Michael Halkitis insisting that Moody's did not fully understand what the government intends to do, and therefore based its condemnation on "erroneous" assumptions.
The agency also warned the scheme will cost Bahamian taxpayers $250 million to implement and will create a "moral hazard" in the housing finance market that could lead to an increase in delinquencies.