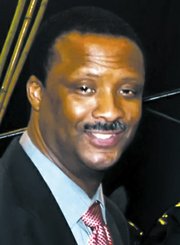 By NEIL HARTNELL
Tribune Business Editor
nhartnell@tribunemedia.net
The Bahamian hotel industry has "recouped" almost 50 per cent of 4,000 confirmed Hurricane Sandy-related room night cancellations, while remaining optimistic that devastation in its key US east coast market will not impact peak Christmas and winter bookings.
Stuart Bowe, the Bahamas Hotel Association's (BHA) president, told Tribune Business that Sandy's impact had been mitigated through a combination of visitors rebooking vacations at a later date, plus travellers unable to leave the Bahamas during the storm extending their stay.
Some 15 per cent of lost bookings have already rebooked, Mr Bowe said, acknowledging that with almost one-third of BHA room inventory surveyed, Sandy had cost the hotel industry "easily" more than $500,000.
And, while 35 per cent of the Bahamas' stopover visitors come from the mid-Atlantic/New England areas hit hardest by Sandy, Mr Bowe said initial indicators suggested the hotel sector would still "meet booking expectations" for the Christmas/New Year and 2013 winter season.
"We've surveyed our members over the past two days and thus far, with about 30 per cent of the nation's hotel room inventory responding, we've seen just under 4,000 room night cancellations," Mr Bowe told Tribune Business of Sandy's impact.
"We've seen over 600 room nights which were cancelled being rebooked at a future date, and over 1,200 room nights being extended by travellers unable to leave the Bahamas due to airport closings."
As a result, this 1,800 room night gain had partially offset the almost 4,000 lost to Sandy. "This means we are seeing just over 50 per cent of the cancellations not being recouped," Mr Bowe confirmed.
"The Bahamas Hotel Association's Hurricane Cancellation policy has helped to recover some of the loss, but without question there has been an impact. On room revenue alone we projected the industry has easily lost in excess of $500,000."
Mr Bowe told Tribune Business that more than 15 per cent of visitor cancellations "have rebooked already, and the number continues to grow. Between visitors who extended their stay and residents who booked into hotels, over 1,200 additional room nights were booked".
While flight schedules into and out of the Bahamas had largely returned to normal, Mr Bowe agreed that the multi-billion dollar damage wrought by Sandy on the US east coast - a market generating more than one-third of this nation's annual 1.4-1.5 million stopover visitors - could impact the industry's medium-term outlook.
"Around 35 per cent of our stopover visitors come from the mid-Atlantic and New England gateway," the BHA president told Tribune Business. "While we have experienced this immediate impact on business, we are hopeful based on past experiences with situations like this that we will not see large numbers of future cancellations.
"Thus far, indications point to us holding on to the business. While we regret the loss of property and lives from this unfortunate Act of God, the severity of the impact is concentrated along the coastal towns, and while the devastation has been extensive, we anticipate that most of the Mid-Atlantic will move back into a normal pattern fairly soon........ Early indications point to our being able to meet booking expectations."
James Smith, a former minister of state for finance and ex-Central Bank governor, told Tribune Business that Hurricane Sandy's effects on the US north-east were potentially more harmful for the economy than the storm's direct impact on this nation.
Basing this on the fact that 80-85 per cent of higher yielding stopover visitors came from the US, Mr Smith, now a key Ministry of Finance adviser, said: "I think we have a much larger problem, and that's the impact the storm has had on the north-east.
"Because of the developments in that area, it may dampen visitor numbers during the boom period of late December and the New Year. It's leading into our most productive period for tourist expenditure. That is going to be much more of a negative impact on the entire economy. I hope it doesn't happen."
With Americans in storm-devastated areas preoccupied with costly clean-up and repairs, the theory suggests they will have less money to spend, and inclination to go, on a Bahamas vacation.
Mr Smith also suggested that the Bahamian tourism industry, from a private and public sector perspective, had yet to respond to Sandy's aftermath in a concerted fashion by getting out the message that this nation was 'open for business'.
"I don't believe we have had the opportunity to respond and put out that once the hurricane passed over the Bahamas, there was no substantial damage to major destination points like New Providence," he added, noting that many visitors tended to look at this nation as one, not separate, islands. "Normally we're quick to respond, and I don't see where that's happening."
Tourism is also a big revenue/tax generator for the Government. Apart from the direct taxes, such as room tax and departure tax, it also stimulates much of the Bahamas' import and Customs duties.
Sandy-related repair costs meant an increase in spending, as these were expenditures the Government had not planned for, combined with a fall-off in revenues. All of which, Mr Smith said, were likely to mean a further widening of the fiscal deficit.
"There are a number of things going on in the major sectors that could be problematic over the next several months," Mr Smith told Tribune Business. "We've got challenges on all three major fronts.
"The major sectors are tourism, financial services and construction. Tourism has been exacerbated by the storm; financial services faces evolving standards, FATCA preparation, OECD issues, the global financial meltdown and pressure on Swiss banks to pull out of the region."
Mr Smith added that the construction industry had been hit by the high level of mortgage arrears and excess housing capacity, which had reduced demand for new buildings. While the foreign exchange inflows related to insurance payments might provide a small boost, Sandy had come through at a time when the Bahamian economy "can least afford it".
Robert Sands, Baha Mar's senior vice-president of external and government affairs, told Tribune Business that the Bahamian resort industry was "concerned and conscious" of Sandy's impact on both the US north-east and its short to medium-term outlook.
He backed Mr Bowe, though, in saying there was no indication of any Sandy-related fall-out for hotel industry bookings for the Christmas and New Year period yet. And Mr Sands contradicted Mr Smith by saying promotional efforts were already underway, with Obie Wilchcombe, minister of tourism, visiting key US east coast and mid-west markets to get the word out.
"I think it's important to say the industry is concerned about the impact of Hurricane Sandy on the north-east, and unquestionably we hope their ability to recoup after such a storm is quick, allowing those persons to get back to a sense of normalcy, and that their lives have not been too adversely impacted," Mr Sands said.
"We are beginning to see the inflows of some flights again. The hotel industry itself has embarked on a PR campaign, and the Minister is visiting certain parts of North America, in particular some areas of the north-east and mid-west.
"The message is that the Bahamas is still open for business, and the impacts of Hurricane Sandy are being addressed in a meaningful way in Nassau, across the Bahamas, and we are open for business again."
Mr Sands added: "We are conscious of the impact this may have on consumers; that it could cause people to delay or cancel their plans, but a substantial number of those persons are rescheduling for later dates to come to the Bahamas."
Asked whether Sandy had prompted some booking cancellations for the Christmas/New Year, and winter 2013, period, the Baha Mar executive told Tribune Business: "We have not had any indication of that this far out, and at this point in time.
"We'll have to monitor those bookings. Where there's been a great level of destruction, it's safe to assume there'll be some impact, but it's a significantly large geographical area and customers come from all over.
"While there may be some impact, it's fair to say Sandy's impact did not significantly target that geographical area to the point where we're seeing notable cancellations that far out for the end of the year."
While emphasising that the Bahamian hotel industry did not wish to be seen as benefiting from the challenges faced by its guests, Mr Sands agreed that travellers extending their stay during Sandy, coupled with rebookings, had mitigated the impact of short-term cancellations.