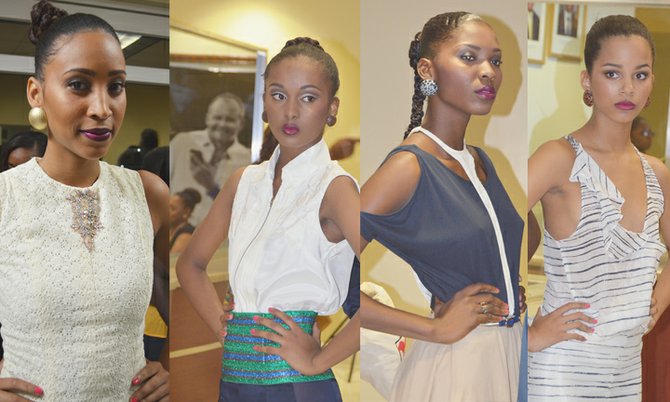 By ALESHA CADET
Tribune Features Reporter
acadet@tribunemedia.net
LOCAL designer Theodore Elyett Sealy debuted new designs from his 2013 collection at Fash|Art 2012. His recent experience in New York added new inspiration to the "Above" collection, and with that, he hopes to fulfil his ultimate objective, getting his work sold.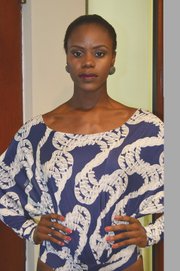 "The difference between this collection is that it is a clean neutral pallet. You have your creams, beiges, navy blues and whites so it was basically cutting out all the colour and making the designs more streamline, where women can say I want that piece. One thing I can say I have learned in New York is that when you make a collection, you want the women to buy pieces for her entire closet. Not just this and that. We want to sell the entire collection," said Mr Sealy.
At the end of the day fashion is about marketability, said Mr Sealy. Even though he has been in the fashion business for over thirteen years, his pieces have not yet proven to be marketable. Mr Sealy said many people do not want to wear mixed matched patterns, so he had to tailor his style to the market, making clothes that could get into magazines and boutiques to be sold. His lines are typically known for their colour and patterns.
"All of the pieces I love and I always try to design my clothing with my mother at the back of my mind because she is always a huge inspiration to me. She has like an iconic style to me and so with this collection, she said it is something she would wear and that made me feel like this is my best collection yet. I respect her style and vision and I am happy with it," said Mr Sealy.
Items from the collection can be work to a cocktail reception or with a pair of jeans. Mr Sealy said he would not describe them as high fashion.
On Saturday, Mr Sealy won the Stylezine People's Choice Award for fashion. Last year, he won the Fashion Next: Harl Taylor Emerging Fashion Designer. And in 2010, he received a scholarship at the Islands of the World Runway to Fashion Week.
"The reason why I call it "Above" is because it is above anything else I have ever done. It is an extension from my project that I did when I went to Parsons (School of Fashion), a school that I attended in New York. It was weeks of intensive studies with creative design, art and everything in the fashion business," said Mr Sealy.
"It is good to have people saying your clothes are pretty and nice, but you want to sell them at the end of the day. I find that they like this one more because it is relatable and I just wanted to clean it up. I was always known for colours and prints and after attending the school in New York I wanted to show people the new me," he said.
Patrons at Fash|Art reacted positively to the rebirth of Theodore Elyett.
"Two magazine editors approached me here and said they want to feature the collection. There is so much growth, it is a much more mature collection and people can see that I have grown. Honestly in my head, I actually get what it is about now," he said.
Six pieces from the twenty piece collection were shown in Spring 2012 at the Islands of the World Fashion Week. He said the designs are interchangeably between seasons, considering the tropical climate of the Bahamas.
Chiffon, cotton and natural fabrics are primarily used in the new collection. Keeping with tradition, he used Bahama Handprint fabric for at least two statement pieces .
"I just feel as though sometimes as Bahamian designers we tend to stray away from local fabrics that are native to the Bahamas, so I just always try to incorporate a piece from it," he said.
Mr Sealy's next collection is set for March. Unlike the current aggressive 20-piece collection, the next one will include only 10 pieces.
"Every collection I do from now will be 10 to 12 pieces, that way I can save the money that I would have spent on a 20 piece collection. I can now reproduce pieces to get them into boutiques, so that is my next step, to move from the runway to actually getting into stores, so that people can buy them," said Mr Sealy.
For more information visit www.theodoreelyett.com.