By BRENT STUBBS
Senior Sports Reporter
bstubbs@tribunemedia.net
HAVING completed a vigorous training regimen, Sherman "The Tank" Williams has packed his bags and is headed to Helsinki, Finland, where he is slated to square off with Robert "The Nordic Nightmare" Helenius for the WBO Continental and European heavyweight titles on Saturday night.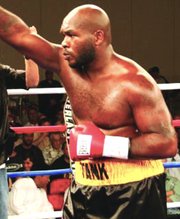 Williams, the Grand Bahamian native now residing in Vero Beach, Florida, spent the past week sparring with Trevor Bryant of New York before he left on Monday for his second consecutive fight this year outside of the United States. He will be travelling with his trainer Gus Curren.
"Everything went well," said Williams of the training camp that he endured with a 6-feet, 5-inch sparring partner to help get him ready for the challenge of taking on the 6-6 1/2 Helenius. "That was the tallest guy that we could find. We tried to get a couple guys from the basketball team, but that didn't work out.
"But it was good because I was able to work on my jab on the inside and throw a lot of vicious body shots and then throw the overhand right."
Fresh off his 12-round decision over Chauncy Welliver at the Grand Waldo Conference & Exhibition Centre in Macao, China, on June 28 for the WBO China Zone and WBO Asia Pacific heavyweight titles, Williams said he's prepared for the huge task ahead of him.
"We've been working hard and I am confident that I can win," Williams said. "I watched some footage of Helenius and he's a classic tall guy. I've been studying him and I'm focusing on whipping his body and going to the head with the overhand right and the hook."
The 28-year-old Helenius is ranked at No.8 in the WBO with a 17-0 record with 11 knockouts, compared to the 40-year-old Williams, ranked at No.10 with a 35-11 record with 19 KOs. The only problem is that Williams is fighting in Helenius' backyard.
"I don't expect the referee to be my friend," Williams said. "I know I have to go out there and do what I have to do to win."
Curren said the goal for Williams in Helsinki is a simple one - to bring the titles back to the United States.
"This is our sixth fight together, but I have never seen him in the kind of physical shape that he is in right now," Curren said. "He looks good physically, but mentally, he's always focused for the fight, but he's excited about this and he knows what he has to do. He's really excited and very focused on what he has to do. I've never seen him like this."
Although Williams is going in with a vast disadvantage in size, Curren said based on what he studied having watched Helenius "upside and down, over and over again and inside and out," he's also confident that they will be victorious at the Ice Hall on Saturday.
"He's a big strong guy with great feet ability for his size, but he hasn't seen anybody like Sherman yet," Curren said. "Sherman has always had to look up to these guys and he's found a way to get past them. He's had some great sparring and he looks great. He was so relaxed and calm. He was beating those guys easily."
Curren said having done the necessary homework, they are ready for the test on Saturday night. Hopefully, their results will spell champion after the fight.