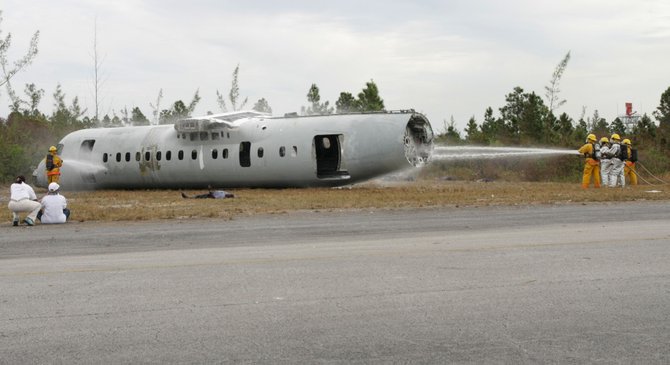 By DANA SMITH
Tribune Staff Reporter
dsmith@tribunemedia.net
THE need for better communication between agenices at the Lynden Pindling International Airport was revealed yesterday after officials staged a simulated plane crash.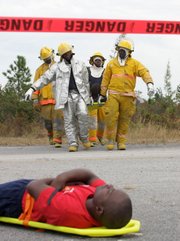 Yesterday morning, LPIA's emergency response was put to the test with a "full-scale drill" of a simulated plane crash complete with the role-playing of passengers, airline crew, family members of crash victims, emergency response agencies, and airport employees.
The exercise is done every two years in an effort to evaluate emergency response and make any necessary improvements. Yesterday's scenario was the third time the exercise was done.
The scene included a 84-seater plane that "crash landed" at LPIA after a landing gear problem forced the plane to turn back, shortly after take-off.
First to respond was the airport's own fire services, followed by ambulances, fire services, and police.
The Airport Authority's chief fire officer, Samuel Clarke told the press: "These exercises are extremely important. They test our contingency plans on what our procedure ought to be and based on our test of our plan today, it will tell us where we need to strengthen or improve or actually change our response procedure."
He praised the response time of the emergency services to the scene, noting although the scenario was delayed by an hour, the relevant agencies were still able to respond.
"Our actual plan time from the beginning – it was delayed but it didn't alter our response to the situation when the final alarm was made," Mr Clarke said. "I think that's a plus in the sense that although something was planned for a specific time, it happened later but everybody responded accordingly."
He admitted communication remains a long-standing obstacle when it comes to emergency response, but explained communications has been steadily improving as the tests continue.
"Always on these exercises, there's always a plan to improve communication and cooperation and I can basically see that playing out again – communication and coordination," he said.
"These drills test our plans and wherever there are weaknesses, we seek to make improvements. From our past, always we had a problem with improvement in communications. We're going to evaluate this year to see if our communication aspects have been improved."
Following the stimulation, Mr Clarke said, LPIA will evaluate the entire scenario with the help of "observers" – airline experts who watched the scene and made notes based on the response of the emergency services.
"We'll do our debrief, we'll have our report from our evaluators and once that is done we'll make a determination on the best way forward for improving our response," Mr Clarke said.
Civil Aviation director, Patrick Rolle was one observer on site watching the scene play out.
"My role here is to observed (and) to critique," he said. "The critique is beneficial because we're looking at all the mistakes, we're looking at those areas that we can improve on and we improve them."
Mr Rolle took note of the importance of the exercises, explaining the airport's emergency response has drastically improved as the exercises continue. He also agreed communication plays a key role in the execution of emergency response.
"The first one, to be honest, was a mess. We did it (and) we found that there were a lot of errors. We found that in certain areas we were not prepared," he said.
"In most areas, incidents like this – the major problem is communication, so we had to correct those. We have to ensure that everyone who was involved was notified in proper time. So every time we do this, it improves. Every time we do this, we find we have to change things."
He emphasised any mistakes that may happen during the exercise are viewed by observers as "avenues to improve upon."
He said: "What we're practising and looking for is proficiency and making sure everyone understands their role."
Members from the Royal Bahamas Police Force, Royal Bahamas Defence Force, Civil Aviation Department, National Emergency Management Agency, Emergency Medical Services, Airport Authority, MED Evac, JetBlue, Bahamas Red Cross Society, Princess Margaret Hospital, Doctors Hospital, New Providence Community Church, and the Nassau Airport Development Company participated in the drill.